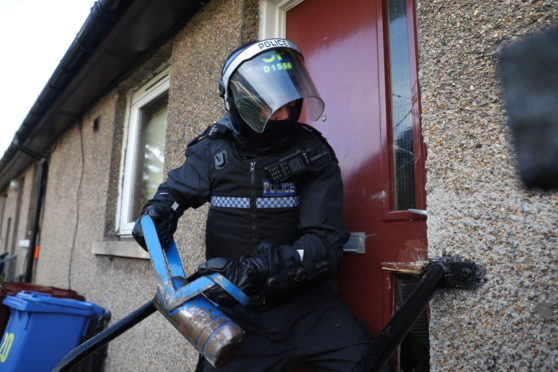 10 people have been arrested in "one of the biggest days of action" ever taken against drug dealers in Tayside.
The force carried out seven stings this morning with an address on Balunie Avenue one of the first hit.
Police raced to the quiet street at around 9.30am and used an enforcer to enter the premises, the door of which bad been strengthened by the occupants with a large plank of wood.
A 43-year-old woman and a 32-year-old man inside the property are currently being questioned.
The action forms part of the wider Operation Fundamental and Operation Slate.
Neighbour Mrs Simon said: "It's a wee bit scary seeing and hearing all the police.
"I just try to mind my own business really and keep myself to myself.
"I haven't seen anything like this here before though. It's mostly older people that live here."
Further raids are set to be carried out throughout the day with around a dozen planned in total.
For the first time, representatives of the city's integrated substance misuse service, children and families social work and neighbourhood services were located within the hub from where the operation is being co-ordinated.
This allowed them, in real time, to look at what additional support anybody involved in the operation might require.
Speaking ahead of the first raids on Monday morning, chief superintendent Andrew Todd, divisional commander for Tayside, said the operation has been planned for over two months.
He said: "This is one of the biggest days of action we have taken. We have more than 100 staff involved.
"Today is part of a much wider operation. We are trying to make an impact on some thing making real harm in our communities.
"Dundee has one of the highest drug deaths rates in Western Europe.
"We're acutely aware of the impact that drugs misuse has on our communities and we're committed to work alongside He adour partners to tackle it.
"We work closely with other organisations including health, social work and housing to address the wide range of issues that lead to and result from substance misuse.
"However, enforcement is also an important part and Police Scotland will continue to use intelligence to target those who are blighting our communities by dealing drugs.
He added: "Operation Fundamental has received a considerable amount of support from Police Scotland specialist services from right across the country.
"It shows that in addition to our work locally we can exert a significant show of strength, calling upon our colleagues to assist in our Operations locally."
A police spokesperson later confirmed the arrests.
He said: "10 people have so far been arrested today in connection with alleged drugs offences as part of Operation Fundamental, which is a multi agency intelligence led operation to impact on the critical level of drug related deaths in Dundee.
"Today's actions saw officers from Tayside Division, Specialist Crime Division, Operational Support Division and National Crime Agency execute 12 warrants across Dundee."