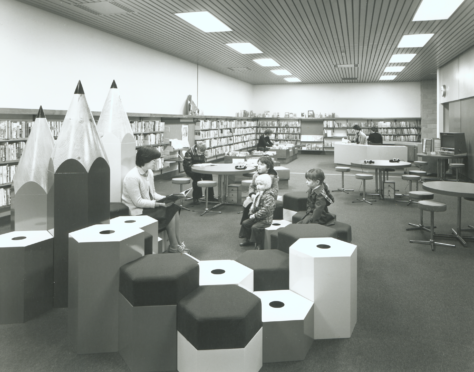 Scotland's busiest library is to mark 40 years sharing a wealth of books and resources with generations of Dundonians.
The Central Library, which opened when the Wellgate Shopping Centre was completed in December 1978, will give the public a chance to share memories and contribute to a digital story about the history of the Wellgate and libraries in Dundee on Saturday.
The library, run by Leisure & Culture Dundee, will also exhibit collections of photographs and articles of the building before and after 1978.
The service quickly became a Scottish leader in information sharing following its move from The McManus Galleries as its collections outgrew the space it shared with the city's museum and art collections.
The new building offered extra library departments focused on art, music and business, as well as a popular record library and Dundee's first mobile library service, whose van carried 2000 books to the outskirts of the city.
The move was a modern landmark in Dundee's eventful library history, which is said to hark back to the 1280s when Lady Devorgilla of Galloway gifted a collection of books to the city.
Last year it was again revealed to be the most popular library in the country, making up the majority of the one million visits to libraries across the city.
Sinclair Aitken, chair of Leisure & Culture Dundee said: "Public libraries have a fantastic history in Dundee and Central Library is no different — generations have benefited from the books and resources we have available here.
"We continue to develop and deliver the service so that we can provide a dynamic and quality resource for the people of Dundee and beyond."
The shopping centre has seen many changes over the decades, but one favourite landmark still draws crowds and inspires happy memories – the Wellgate clock.
The animated characters have delighted generations of Dundee children and recently acted as inspiration for one of the Maggie's Penguin Parade statues, Tick Tock, who now has a permanent home in the Wellgate.
The service has had to move with the times and adapt to changes in technology over the years to maintain its popularity.
Four years ago, it became the first public library in the UK to incorporate 3D printing into its services for groups with additional support needs.
It also regularly engages with the local community, setting up activities such as a 15-mile, 48-stop literary map of the city.
The library has several acclaims too such as being the first in Scotland to offer an information service for dementia sufferers.
Digital Storyteller in Residence Dan Brown and the Local History Centre's Erin Farley will host a reminiscence session between noon and 4pm on Saturday at the library, which is on the top floor of the Wellgate.