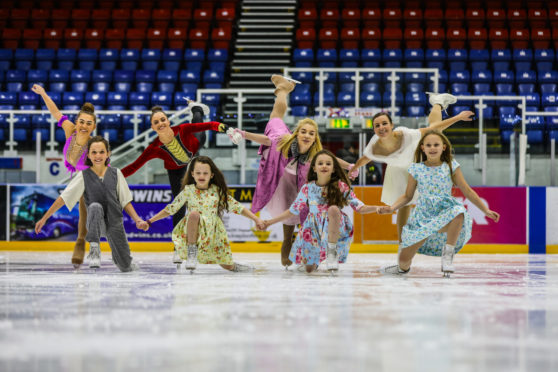 Rehearsals are in full swing for the annual Dundee Christmas ice show.
The Greatest Show On Ice, inspired by the iconic 1952 American film The Greatest Show on Earth, will take place on Saturday.
Organised by Dundee Ice Skating Club and Ice Coaching Elite, the event has become a regular fixture on the city's social calendar and features some of the top figure skaters in the UK.
This year's show will star three-times British senior  ladies champion Natasha MacKay, who qualified for the European Championships earlier this week, as week as 2014-2015 senior ladies champion Karly Robertson, the reserve for the Europeans.
Other skaters include Danielle Harrison, 2015-16 senior ladies champion, Conor Stakelum, five-times Irish national figure skating champion, and Ana Vaipan-Law, runner-up junior ladies champion.
Overall, a total of 150 skaters of all levels will take part in the show, the youngest being just four-years-old.
Team GB Olympic coaches Simon and Debi Briggs said tickets for the show sold out within two weeks of being launched.
Debi explained: "When the rink first opened in 2000, the Christmas show was more of a gala, where each skater did an individual exhibition, one after the other.
"It gradually developed into a show, where the skaters interact more.
"The skaters normally work for themselves, but now that the nationals are done they can really come together to work as a team to produce the show, and have a bit of fun as well.
"Attendance varies from year to year – last year we had spare seats, whereas this time we sold out within two weeks.
"Everybody helping out at the show, from making costumes to designing the scenery,  is a volunteer, so we would like to thank them for their support."
The Greatest Show On Ice takes place on Saturday, December 15 at 12pm, with a second showing at 4pm.