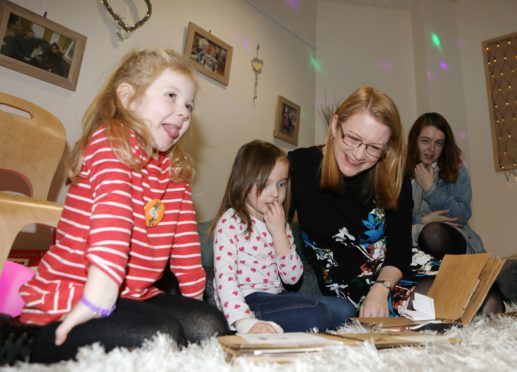 Dundee parents yesterday hailed the planned introduction of a new £250 benefit payment designed to help with spiralling school costs.
Social Security Secretary Shirley-Anne Somerville visited Quarry View Nursery, part of the new £17 million North East Campus in Whitfield, to announce applications for the new Best Start Grant School Age payment will open on June 3.
The benefit, which will only be paid to those receiving DWP payments such as Universal Credit and Jobseeker's Allowance, is being introduced to ease some of the financial pressures parents experience when a child starts primary school.
Ms Somerville said: "The Scottish Government is determined to ensure that Scotland is the best place for children to grow up — and that's every child.
"We know that when you go into primary it can be a very expensive time for families and this school payment will give that £250 grant to eligible families to assist with some of those financial pressures.
"It's so that they and the children can really look forward their first day and really get the most out of primary one."
Many of the parents at Quarry View talked of the rising cost of necessities but also of social pressures among children at school.
Susan Middleton's four-year-old son James will soon be starting primary school.
She said: "Although I'm not sure if I will be eligible, I think the grant is brilliant.
---
>> Keep up to date with the latest news with The Courier newsletter
---
"It can be a really stressful time and I don't think people appreciate how expensive it can be having a child start school.
"Everything just adds up. Most kids also want the latest of everything so that can be difficult."
The grant will be paid by the Scottish Government's new agency Social Security Scotland, set to be headquartered in Dundee.
The payment, which is still to be voted through the Scottish Parliament, builds on the introduction of the Best Start Grant Pregnancy and Baby Payment, only launched in December last year.
The grant was hugely successful with more than 4,000 parents applying in the first few days.
Ms Somerville added: "We've tried to make sure the eligibility is very simple. It's the same eligibility as Best Start Grant Pregnancy and Baby Payment, as well as Early Years Assistance.
"Obviously we will keep this under review so that we are getting the right focus.
"We want to ensure we are helping families on low incomes with those financial pressures at different times in a child's life.
"I think what we have is a simple but effective way for people to understand if they are eligible and then encourage them to apply."