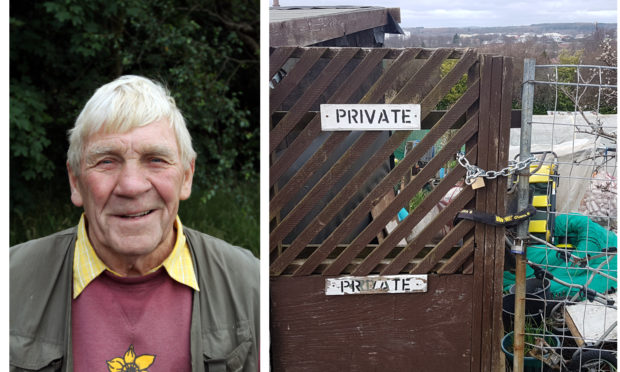 A desperate pensioner has barricaded himself into his Dundee allotment shed in a desperate bid to fend off an eviction order.
Don Elder, 75, has gardened at the West Law Allotment site for the last 20 years and has been there every day for the last decade.
Now, after a falling out between Mr Elder, whose wife Hazel also has a plot at the site, and the West Law Allotment Association, he has been told to leave.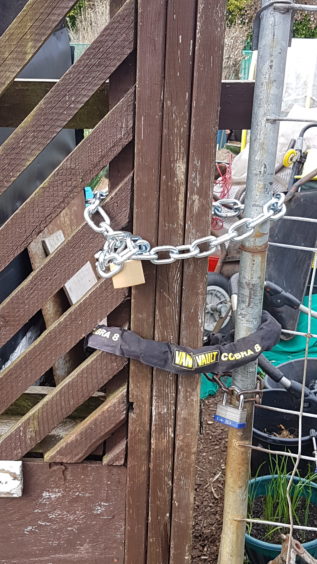 Initially he was told to be off the site by Friday March 15, but he appealed the decision and has since heard that the appeal was not successful.
A padlocked chain has been fastened on the entrance to the keen gardener's allotment to keep him out.
But Mr Elder has still managed to gain access and has since added another chain and padlock to the door for his own safety during his sit in.
Mr Elder began his one-man stand on Tuesday night and he has vowed to continue it until he is forcibly moved off the land.
He said: "It's stupid and frustrating but I am not going to leave without a fight.
"I have a fire and fold down bed. I had a good night's sleep on Tuesday night and I have enough food for while.
"I just can't get over the association, they are just being bad minded and they are determined to get me off.
"I feel I have to make a stand. I have paid my £25 rent for the plot until October and I am determined to stay.
"I have not done them any harm really, I have just been a pain in their side as I ask too many questions.
"They are trying to bulldoze everyone here."
Mr Elder, of St Leonard's Place, used to be a member of the allotment association for the site in the shadow of Dundee Law.
He has promised his wife that if force is used to evict him that he will go peacefully and not fight back.
Over the last few years the West Law Allotments have been targeted by vandals and in 2014  nearly 20 panes of glass in Mr Elder's greenhouse were smashed.
While in the same attack a further 12 panes of glass in Hazel Elder's greenhouse were smashed.
Then in August 2017 vandals broke into 14 sheds on the site and then repeated the feat the following February.
Nobody from the West Law Allotment Association responded to a request for comment.