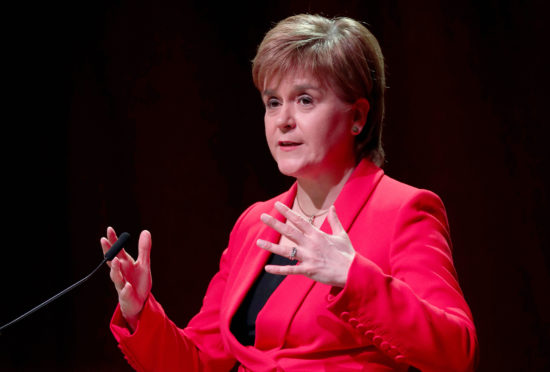 Nicola Sturgeon has admitted the failure to secure domestic renewables contracts has been a "huge issue" for Scottish businesses, such as the beleaguered fabrication firm BiFab.
The First Minister, addressing the Scottish Trades Union Congress (STUC) at the Caird Hall in Dundee, said ministers had "not done as well as we should" in helping to land domestic deals, but pointed to the potential of the city's port for future initiatives.
Hundreds of workers have lost their jobs at BiFab's Burntisland and Methil fabrication yards, and Ms Sturgeon previously vented her frustration over the firm missing out on renewables contracts for Scottish developments.
Nearly £3 billion worth of work for the Moray East Offshore Windfarm and the Kincardine Floating Offshore projects were won overseas but Ms Sturgeon insisted the transition to a carbon neutral society can still provide "huge opportunities".
The SNP leader said the Port of Dundee is seeing new investment for the decommissioning of oil and gas infrastructure, and had also "demonstrated its potential as a base for assembling offshore wind turbines".
"So far we have not done as well as we want to, we've not done as well as we should, in building a domestic supply chain for new renewable industries, and that of course is a huge issue right now for BiFab, for example," Ms Sturgeon said.
"It's why we're hosting a summit in early May for developers, manufacturers and the UK Government that trade unions will be involved in.
"Because, as more offshore wind farms are built in Scottish waters, we must maximise the benefits they bring to Scotland."
Ms Sturgeon said a "key mission" of a new national investment bank would be to support the transition to a carbon neutral society, a plan she insisted could reap major rewards for workers and businesses.
She also announced the expansion of a pilot project to support Scottish firms by formally recognising and accrediting the skills and qualifications of people from overseas, with around £130,000 allocated in additional funds.
The initiative will help migrants transfer training gained in other countries to UK-recognised qualifications across key sectors such as social care, construction, engineering, IT and hospitality.
It is estimated the scheme has already helped 40 migrants and refugees, with another 40 people expected to take part in 2019/20.
The First Minister used her speech to hit out at at the immigration policies of the UK Government and said restrictions on movement and access to workers would have a "disastrous impact on many of Scotland's key sectors and on our communities".
"Scotland wants no part of Theresa May's despicable hostile environment," Ms Sturgeon said.
"We reject the dog whistle xenophobia that is too prevalent in political discourse and we stand firm and united against the rise of the far right.
"We want people to come to Scotland and we want people to stay here. Diversity is not a weakness – it is a strength to be celebrated."