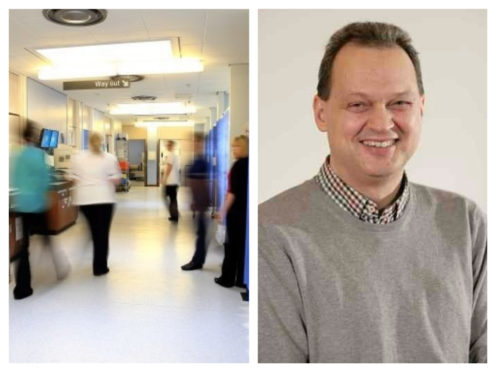 A leading expert has called for a national review into the effects of different chemotherapy doses on breast cancer patients in the wake of treatment revelations at NHS Tayside.
Professor Mark Chaplain, who specialises in analysing mathematical models of cancer growth at St Andrews University, insisted there are international studies to back up claims that lower doses do not cause increased harm to patients.
One such example is a 10-year-old study in Finland which compared the difference between low and high chemotherapy treatments for breast cancer, finding individuals on lower doses suffered no inferior outcomes and also reported lower side effects.
Nearly 200 patients were given lower than standard amounts of a chemotherapy drug by doctors in Tayside between December 2016 and March 2019 in a bid to reduce harmful side effects and long-term secondary conditions.
A Scottish Government-commissioned review published last month advised that patients were put at a 1-2% increased risk of having their cancer return as a result of the treatment, but the findings have been met with scrutiny by some clinicians.
Professor Chaplain, Gregory Chair of Applied Mathematics at the Fife university, has called for a national review to find definitive answers for patients and families.
He told the BBC: "Perhaps what is needed is a proper statistical analysis of the Tayside situation, along with the rest of Scotland, to come up with a proper comparison to see if either (dosage) cohort was advantaged or disadvantaged."
The call comes following the publication of a scathing report, compiled by a retired oncology expert with decades of experience, which suggests the Scottish Government-backed risk assessment was carried out by "armchair oncologists".
The document, seen in full by The Courier, claims it has "none of the characteristics associated with dispassionate enquiry" and "reads as if it were an exercise in reverse engineering: we know the answer, now let's show how we can find it".
---
>> Keep up to date with the latest news with The Courier newsletter
---
It said the suggestion of an increased risk to patients was "built on sand".
The author added: "There are no references provided, suppositions are presented as facts, the language is vague and shifty, and there is neither coherent numerical analysis, nor any serious attempt to find informative evidence.
"The real problem with the report is that it deals with irrefutable hypotheticals."
It is understood the report was circulated among senior doctors last week as officials from the Royal College of Physicians arrived in Tayside to further investigate the practices of the local oncology team.
Lee Dennis, who set up the NHS Tayside Cancer Care Support Group, has repeatedly asked senior figures to "corroborate their assertions with publications, statistical data, and like-minded opinions from other cancer networks in Scotland".
She said: "How can the Scottish Government make any sort of intelligent comment on a report when the data and methodology that informs said report is unavailable? It makes for a rather hollow assurance."
A Scottish Government spokesperson said: "We are committed to ensuring all patients get the best care and treatment possible.
"We have robust mechanisms in place for oncology guidelines and treatment across the country which follow the latest evidence and monitor new research appropriately."