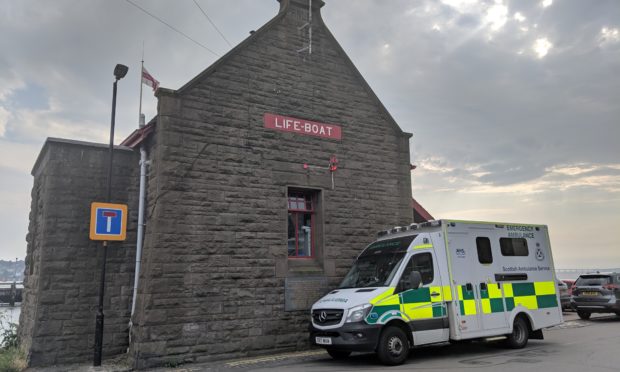 Emergency crews from Broughty Ferry lifeboat were scrambled for the second time in three days to reports of a fully clothed person attempting to swim in the River Tay.
The team was asked to attend by Aberdeen Coastguard on Thursday evening after someone tried to cross the river from an area behind the V&A museum in Dundee to the opposite side in Fife, while wearing normal street clothes.
Both lifeboats had to be launched shortly before 5pm and quickly located the person before plucking them from the water into the inshore lifeboat. They were then transported to the all weather vessel for treatment.
The individual was transported back to the lifeboat station and handed over to the care of paramedics from the Scottish Ambulance Service. No further information on their condition is currently known.
It comes just two days after the crew were called to a similar incident following reports of a fully clothed person struggling in the water near the Royal Tay Yacht Club.
The shout, which came in at around 2.45pm on Tuesday, saw the inshore team locate the individual and transport them back to the station at around 3.10pm. Again, the person required treatment from paramedics.
The incidents have raised fears some residents may be ignoring normal safety precautions and taking unnecessary risks to stay cool in the summer heat.
Carlene McAvoy, community safety development manager at the Royal Society for the Prevention of Accidents, warned swimming at open water sites can present "many dangers" for members of the public.
She said: "Even the most experienced swimmers are at risk of drowning, and even during hot spells like the one we're having now, the water will still be cold enough to induce shock.
"Added to this, there are strong currents and other things hidden below the water that could affect your ability to swim.
"If you're looking to cool off this weekend, please head to lifeguarded beaches or other managed sites. We see too many people drown in open water because they think it's safe to swim."
A man had to be rescued from the River Tay last month after attempting to swim from Dundee to Fife in swimming trunks. Volunteers discovered the troubled swimmer being battered by 30mph gusts halfway across the river between its two bridges.
Maryfield councillor Lynne Short, who is depute convener of Dundee City Council's Community Safety and Public Protection Committee, also urged residents to take care.
She said: "Although I could not comment on individual cases, it is always important to remember that the River Tay is not only Scotland's longest river but it is a very dangerous part of the estuary that we are sighted at as a city.
"From a very young age we are taught to be careful of bodies of water and it is incredibly important to always put your own safety, and that of others, at the front of your mind at all times of the year."