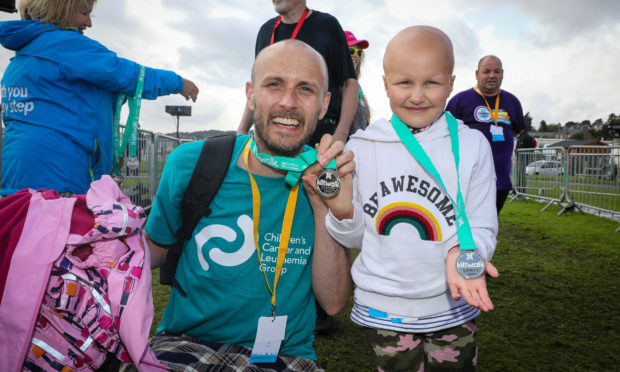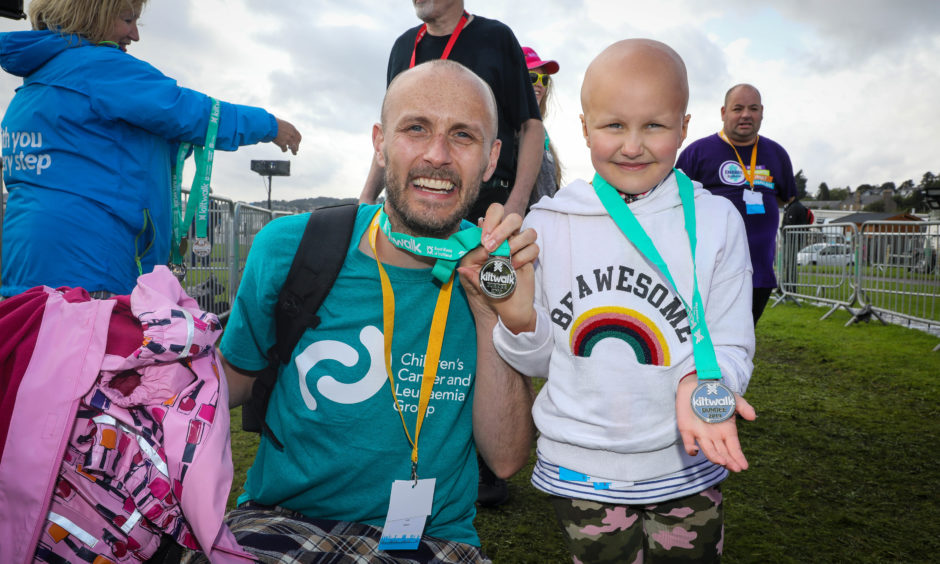 A brave six-year-old Perthshire cancer battler completed the Dundee Kiltwalk in an effort to help fund a cure for her and others across the world.
Ruby Stewart, from Inchture, was recently diagnosed with a rare form of the disease – stage four alveolar rhabdomyosarcoma – for the second time.
She ticked off the six-mile Wee Wander from V&A Dundee to Monifieth on Sunday, alongside dad Andy and granddad Keith.
Mum Claire joined the wanderers at the end after becoming one of the fastest females to complete the longest route — the 25-mile Mighty Stride, which Ruby's grandmum Deanne also finished.
Ruby was also joined on the walk by around half a dozen of her classmates from Inchture Primary School.
Dad Andy said he was proud of the courage and strength his daughter showed on the day.
"It was obviously difficult at times with the wind and rain but she doesn't let much bother her," he said.
"The amazing thing is she just keeps going. There's no stopping her.
"She had her scooter with her to help at certain points.
"It was nice for everyone else to join us. It was a real team effort."
Rhabdomyosarcoma is an aggressive and highly malignant form of cancer, which targets the cells of muscles.
Ruby was first diagnosed in September 2017 at the age of four.
She lost sensation in her legs as a result of the condition but after nine cycles of chemotherapy and six weeks of radiotherapy specialists said the cancer was in remission and she started learning how to walk again.
Ruby continued with maintenance treatment for six months before her scans were declared stable in November 2018.
However, in February, she started complaining of a sore back and new scans revealed a relapse. The disease has progressed into both of her legs, as well as her spine and pelvic area, but she is receiving additional treatment and is facing her diagnosis with the same determination she brought to the Kiltwalk.
She and her supporters have so far raised more than £3,300 for Super Ruby's Rhabdo Raiser, a special named fund as part of Children's Cancer and Leukaemia Group (CCLG), which is collecting funds for research into rhabdomyosarcoma.
It is so rare that fewer than 60 under-18s are diagnosed with the disease in the UK each year.
The fund has raised almost £20,000 in total since it was launched.
The Dundee Kiltwalk was the biggest held in the city so far and has already generated £850,000 for more than 300 individually-selected charities.