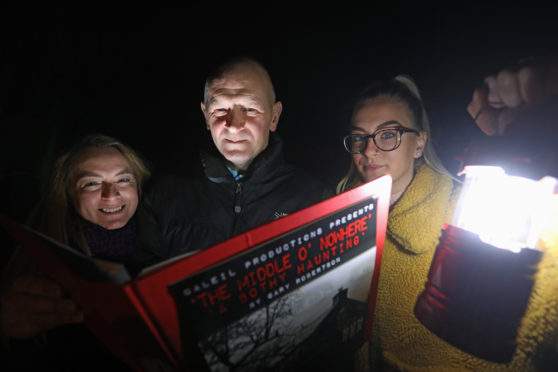 A Dundee street poet and playwright has been nominated for Scots Performer o' the Year at the inaugural Scots Language Awards.
Gary Robertson, from Fintry, has written poems and plays in Dundonian dialect, with many of them performed at the Rep Theatre.
The 52-year-old, who also has a day job as a refuse collector, said he was "blown away" when he was told he had been shortlisted.
He said: "I'm absolutely delighted and humbled. It really came out of the blue.
"I was contacted on Twitter by the award organisers to say I'd been nominated and I was speechless.
"This is the first Scots language awards ceremony and I really hope it will promote the Scots language and raise its visibility.
"I write mainly in Dundonian dialect but there are so many other dialects in Scotland, it's very diverse.
"We have many American words and phrases creeping into our language these days, what with American TV shows, films and music, so it's good to preserve the Scots language."
Gary has written plays  The Middle O' Nowhere: A Bothy Haunting and  The Scaffies and The Berries, which have been hits at the Rep Theatre.
He is now working on another play set in Dundee, called End of the Line.
It is a fiction story set in the NCR factory and will explore Dundee's industrial heritage including its decline.
Gary said: "I have other projects up my sleeve but I can't say too much at the moment.
"I'm really looking forward to the awards."
The awards ceremony will be held on September 27 at the Mitchell Theatre in Glasgow.
On the panel is Dundee singer Sheena Wellington and Fife poet, musician, songwriter and teacher Willie Hershaw among others.
Deputy First Minister, John Swinney, said: "I am pleased to welcome the inaugural Scots Language Awards which highlight the achievements and contribution of those strengthening and promoting Scots in the arts, cultural and education sectors.
"We know the important role that the language has for many across Scotland who use it every day and these awards go some way to recognising this."
To vote for a nominee, log on to https://projects.handsupfortrad.scot/scotslanguageawards/