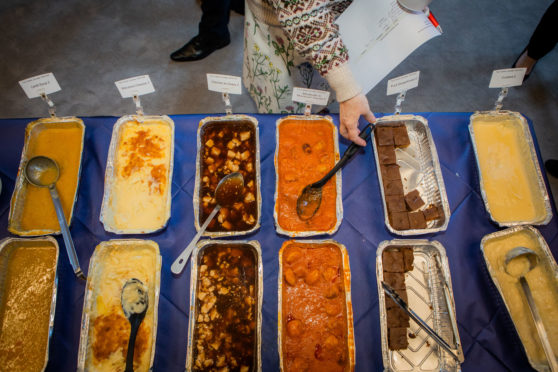 Freezing out a new school meals plan in Perth and Kinross has not thawed Dundee City Council's enthusiasm for the cost-cutting project.
Dundee councillors approved proposals earlier this year to create a centralised kitchen at which food would be prepared and frozen on site by Tayside Contracts, to be shipped out to schools across the region.
Angus Council also signed up to the project earlier this year.
After a campaign against the plan, including a petition with 3,000 signatures, Perth and Kinross councillors voted not to take it further this week.
In light of Perth and Kinross Council's rejection, the Dundee local authority will look at ways to implement the plans regardless.
Angus Council was more guarded, with a spokesman only confirming it will be "considering the implications" of the vote.
Councillor Kevin Keenan, the leader of the Labour group in Dundee, said it is important the latest development does not incur a financial disadvantage to Dundee and Angus councils.
He said: "A real concern is that this won't be detrimental to the investment made in Dundee.
"I haven't seen details yet how this decision affects us here, but I will be raising this with officers.
"I respect that councillors in Perth and Kinross have to vote on what they deem best for their constituents but this is a considerable investment made and Tayside Contracts serves the three council areas."
The plans could see as many as 50 catering jobs being lost due to the centralisation, but there were previous assurances that this would be achieved through natural turnover to avoid mandatory redundancies.
Education minister John Swinney previously expressed concerns about the quality of frozen food.
A Dundee spokesman said: "Dundee City Council is aware of the decision by Perth and Kinross Council not to continue with plans with engagement in the creation of a Central Processing Unit to support the development of the Tayside Contracts meals service.
"Dundee City Council remains committed to the project and we will be working with Tayside Contracts and partners to look at how we continue to take these changes forward."
An Angus spokesman said: "We are aware of the decision by Perth and Kinross Council and are considering the implications for Angus Council."
The project was expected to save Perth and Kinross council £426,000, with council leader Murray Lyle being scrambling to find other ways to make that saving.
He said: "That's not going to be easy, given the financial position we are in."
Tayside Contracts did not respond to multiple requests for comment.