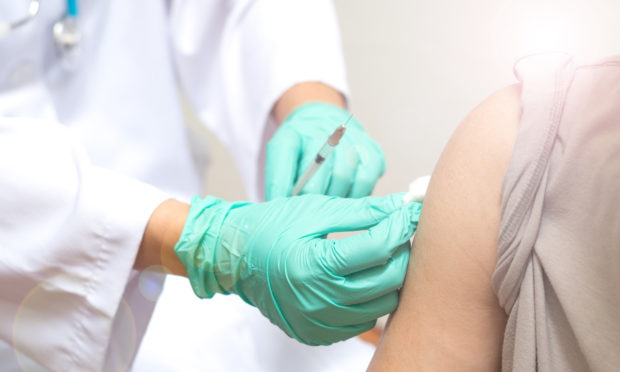 Emergency measures have been put in place to deal with a district nursing "crisis" in Dundee — including a two-week postponement of the flu vaccination programme.
A leaked "escalation memo" seen by The Courier shows the city's district nursing teams have been placed on "amber alert" because of a staff shortage.
The document from the Dundee Health and Social Care Partnership (DHSCP) details a number of measures being taken to try to avert problems.
The alert means flu vaccines are not being administered, teams are being told to not carry out long-term condition reviews and staff are missing "non-urgent meetings" for the first two weeks in October.
Staff are also being instructed to prioritise patients with "life supporting care needs".
The memo, dated September 27, reads: "The Community Nursing Service in Dundee is projecting challenges in service delivery… due to the needs of patients exceeding the nursing resources available within the city."
The disruption is restricted to the Dundee district services, according to a DHSCP spokeswoman, and flu jabs will still be available at health centres.
One Dundee district nurse, who spoke to The Courier on condition of anonymity, said she and her colleagues were at "breaking point".
The nurse, who has worked in Dundee for several years, said: "All anyone in their early 50s can talk about is when they are going to retire.
"I have never seen an escalation memo like this before.
"There are not enough staff to cover everything we need to do. It is a total crisis.
"People come back from holiday for one day and are ready to walk out because of what they face. There are a lot of people off with stress because of how bad it is.
"People need to understand how bad it is for us. This is the worst I've seen it by far."
The nurse said hundreds of housebound patients were being affected by the staff shortage.
"They need to employ more staff. That's all we ask," the nurse said.
Liam Kerr, Scottish Conservative MSP for the North East region, said: "Dundee's health and social care service has admitted it won't be able to help many people in need this month.
"The crisis is immediate and seems to have come about without warning.
"The city team just doesn't have the resources to carry out its duties. That must be hugely upsetting for its staff.
"A massive shortage of nursing staff should have been seen coming down the line, years ago."
A DHSCP spokeswoman said: "The district nursing service in Dundee is currently experiencing capacity challenges due to a range of issues. The planned changes will only be in place for a two-week period and will not have a major impact on the longer term care and support to our communities.
"The flu vaccination programme will continue across Tayside and those who receive their flu vaccination from the Dundee District Nursing team will receive it within the same time frame as previous years."