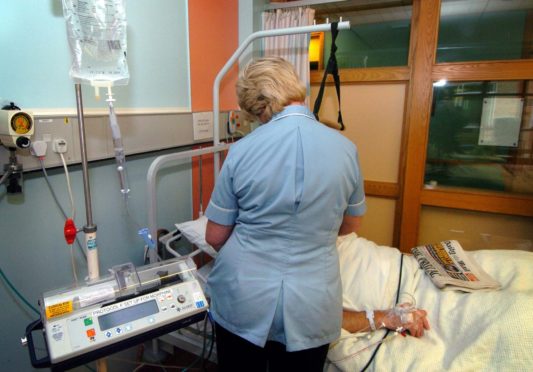 A Fife woman has warned lives could be at risk if confusion over out-of-hours care is not resolved.
The woman said her mother was forced to make a 55-mile round trip for treatment. She has asked not to be named because her mother does not want to be identified.
Despite living in Newport-on-Tay, with a DD postcode, and living less than 10 minutes away from King's Cross Hospital in Dundee, it has emerged the 86-year-old patient was told to make the lengthy journey to Kirkcaldy's Victoria Hospital to be seen at the out-of-hours clinic there.
The elderly woman was woken in the early hours of Monday morning by stabbing pains in the left kidney area and after a phone consultation with NHS 24, she was told she would receive a phone call for an appointment with a doctor at King's Cross.
However, a call handler rang back to say there was no longer a reciprocal arrangement whereby Fife patients could be seen at NHS Tayside hospitals and she would have to visit the out-of-hours clinic in Kirkcaldy – adding more than half an hour to her journey.
The situation has come to light as medical staff get to grips with a new model of out-of-hours GP services in Fife, which Fife health and social care partnership has insisted is safe, flexible and responsive.
The Newport patient's daughter, however, has grave concerns.
She said: "It makes no sense to hospitalise poorly people so far from their homes and families, making them endure lengthy trips through very busy roads at peak times, and it will surely cost lives.
"The loss of historic understandings between North East Fife health practices and Dundee hospital must also, surely, affect efficiency."
NHS Fife and Tayside saidthere has been no change to how patients in the Taybridgehead area are dealt with, although that has prompted questions about how Monday morning's situation came about.
Under the new model, people have been urged to call NHS 24 before attending in a "talk before you walk" campaign to ensure they are seen by the right person in the right place.
Out-of-hours care is being delivered from St Andrews, Kirkcaldy and Dunfermline and the St Andrews Out-of-Hours campaign group has claimed the new set-up could put patients at risk.
Dr Chris McKenna, NHS Fife medical director, said the health board was unable to comment on individual cases but maintained the urgent care service will advise patients to be seen in the "most appropriate setting according to their clinical needs".
Dr McKenna added: "There has been no change to arrangements for NHS Fife patients living in the Taybridgehead area.
"We would encourage anyone who may have concerns about the care they have received to contact our Patient Relations Team so that we can look into the matter further."