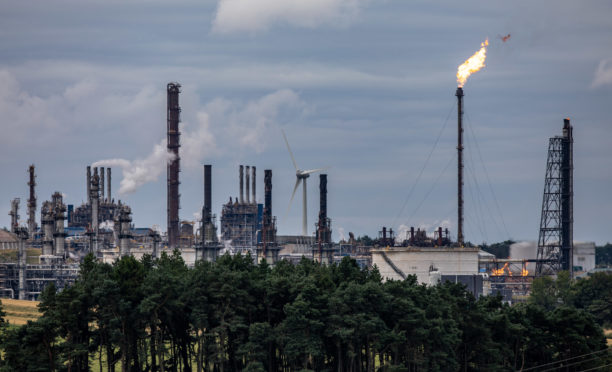 The Scottish Government has been urged to communicate with communities amid claims of a "crisis" at the Mossmorran petrochemical plant.
As a wildcat strike involving contractors at the site was resolved on Thursday, Green MSP Mark Ruskell asked First Minister Nicola Sturgeon to explain to those living nearby "what on earth is going on".
Mr Ruskell challenged Ms Sturgeon at First Minister's Questions, a week after communities expressed alarm at "apocalyptic" unplanned flaring at ExxonMobil's Cowdenbeath plant that could be seen almost 70 miles away.
"This Mossmorran plant is in crisis," he said.
"Communities are suffering, workers are striking. Meanwhile the climate change secretary and energy minister have both refused once again to meet with the local community at an emergency public meeting scheduled for tomorrow night."
Ms Sturgeon said ministers were in "absolutely no doubt about the very understandable concerns" among residents living near the plant.
However, she added: "It's not the case that ministers are refusing to attend a public meeting because they are not interested in this issue.
"There are regulatory enforcement actions under way right now and it's important that ministers respect the independence of that process.
"It would not really be in anybody's interests for ministers to step into territory that is rightly for Sepa and the Health and Safety Executive but ministers understand and appreciate the seriousness of this issue."
She said the government would keep in close contact with the regulators and take whatever steps possible to ensure appropriate action is taken.
Meanwhile, workers who walked out of the site earlier this week said they had now received the assurances they needed to return.
Employees of a sub-contractor left the plant on Monday morning amid concerns over workforce health and safety issues, with workers from a second company, Bilfinger, joining them in sympathy.
It resulted in a second dispute relating to payments during the time Bilfinger employees had withdrawn their labour, and some workers picketed outside the plant on Thursday morning.
Unite regional industrial officer Bob MacGregor said: "We are pleased to say that the workers have received the assurances they need in order to return back to work.
"Measures will now be put in place to ensure there is more effective and robust communications on site including on matters relating to health and safety to make sure this situation doesn't arise again."
GMB Scotland organiser Gary Cook added: "The concerns raised surrounding working conditions and safety on site will be addressed fully under the terms of the 'blue book' industry agreement.
"Staff will suffer no detriment for the action taken over the last 48 hours and we look forward to working positively with Exxon and the sub-contractor employers moving forward."
A spokesperson for Bilfinger UK, said: "We are pleased to have reached a successful conclusion to our discussions with our employees and their union representatives to resolve the dispute. Operations have recommenced."