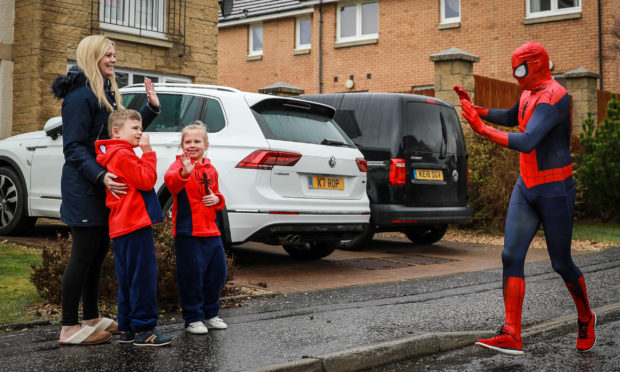 The amazing Spider-Man is taking to the streets of Dunfermline to spread cheer among children who are stuck indoors.
Dave Roper has been dressing as his favourite fictional superhero as he enjoys his daily exercise round the Duloch estate, where he lives.
His antics have captured the imagination of local youngsters, who have been donning their own costumes to cheer him on from their doorsteps and windows.
Now known as the Duloch Spider-Man, the 36-year-old ex-soldier is raising money for Calaiswood School, where his autistic son Liam, 7, is a pupil.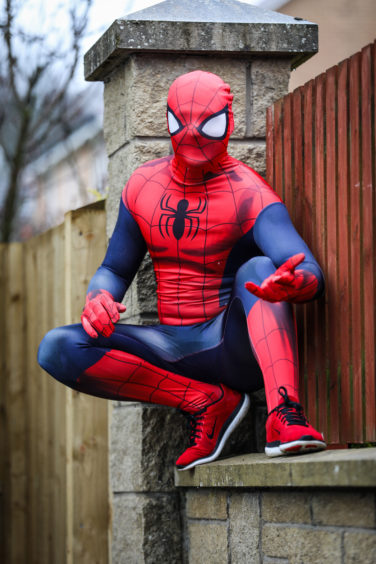 He has already amassed more than £500 since posting his idea on a community Facebook page on Wednesday.
Dave, who also lives with wife Kirsten and six-year-old daughter Lucy, said he was amazed by the reaction.
"The response has been unbelievable," he said.
"I was planning to go for my daily run and my wife suggested I put on my Spider-Man suit.
"I posted on the Duloch Billboard on Facebook that I was doing it and shared a map of my route and the next day 50 to 60 kids were banging on their windows or standing in their gardens."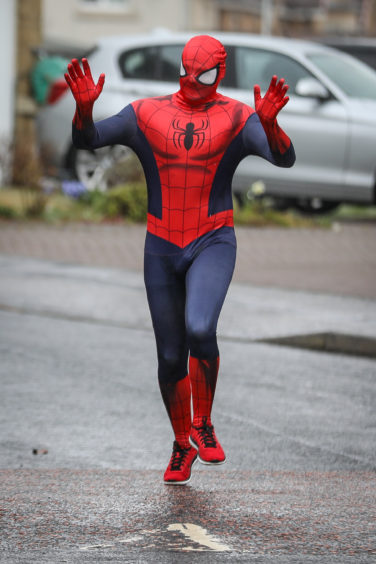 The following day more than 150 families, some in fancy dress, were in their gardens waiting for Spider-Man to run past and give them a wave, and dozens more are expected to join in as word spreads.
Dave said he would be posting a different route every day.
"Liam likes me in my Spider-Man suit but he doesn't understand what's going on," he said.
"He's at Calaiswood School, which is incredible, but this year all their fetes and other fundraising events have been cancelled so I've set up a Gofundme page to help raise some funds for them."
Dave, who now works in finance for an engineering and construction company, plans to keep running as Spider-Man until the coronavirus crisis ends.
"If the Government says I can't go out for my daily run then I'll stop but at the moment it's a great way to keep fit and make kids smile," he said.