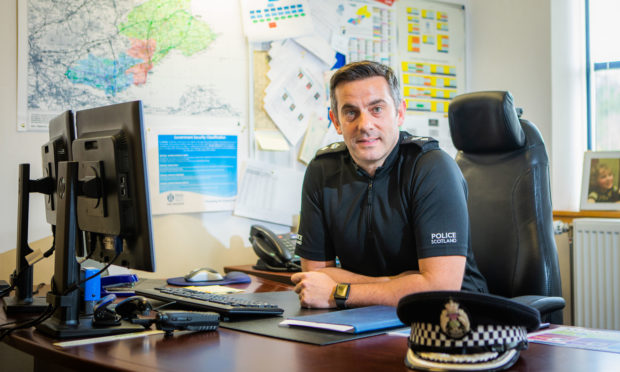 A top police officer has pledged to clamp down on a "worrying trend" of house parties being held as it emerged new recruits with fewer than two weeks' training are to help enforce the COVID-19 lockdown.
Chief Superintendent Derek McEwan, who is Fife's divisional commander, stressed officers will not hesitate to use new powers under the Coronavirus Act 2020, which allows them to close events, gatherings and premises.
Regulations also give officers the power to enforce social distancing among the wider public, with fines of £60, reduced to £30 if paid within 28 days where they have reason to believe there has been an offence committed.
The penalties are doubled for each repeat offence up to £960, with no reduction for early payment. Mr McEwan said officers in Fife will apply the powers "proportionately and with common sense".
In a letter to Fife councillors, seen by The Courier, he said: "Policing is grateful for, and expects, the continued overwhelming support and co-operation we have seen thus far.
"Social distancing is the key intervention to curtail the spread of coronavirus and it is essential the instructions are followed to protect each other, support key workers, take strain from the NHS, and save lives.
"As the restrictions continue, and the weather improves, there is always the potential that non-compliance could increase. We welcome your continued support to apply the law sensibly and proportionately when the circumstances arise.
"However, we are beginning to see some worrying trends, particularly in relation to large gatherings/house parties in private dwellings and other locations.
"This is, clearly, not compliant with the law, or the spirit of the public health advice, and we will continue to take appropriate steps to deal with these breaches when reported to us."
Mr McEwan revealed guidance has been provided to all police officers to deal with individuals who do not comply, adding enforcement powers will be used as a "last resort" where people continue to defy clear advice.
A warning was issued to chief medical officer Dr Catherine Calderwood at the weekend after she made two non-essential trips to her holiday home in Fife.
Mr McEwan added: "The legal instructions on not leaving home without a reasonable excuse apply to everyone.
"Individuals must not make personal exemptions bespoke to their own circumstances.
"Officers will continue to be visible in our communities, engaging with people who are out in public and establishing individual circumstances."
Mr McEwan also confirmed more than 170 new recruits – around half of the 340-strong new intake at Tulliallan in mid-March – are being deployed to support divisions and departments "under appropriate supervision" at a much earlier stage of their training than would ordinarily be the case.
"We've also cancelled non-essential training and redeployed officers from back office functions or areas which have seen a decrease in demand, such as custody and court duties or border security at airports.
"As policing, along with everyone, responds to the coronavirus outbreak, it is important to stress that we remain committed to making sure that every one of Scotland's citizens is looked after."