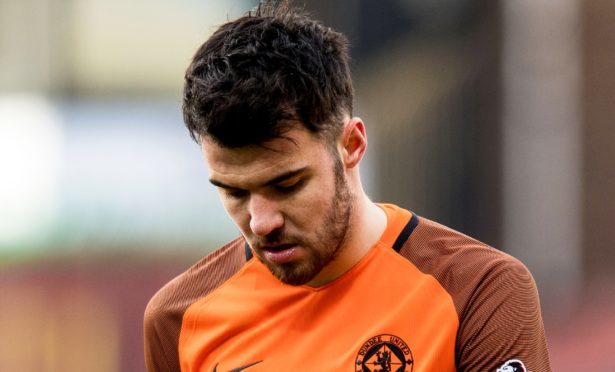 He is on the verge of the biggest summer of his career.
But Scott Fraser's only concern is for the health of his loved ones.
The former Dundee United star is one of the hottest properties in England after a stunning, nine-goal, 14-assist campaign for Burton Albion.
Despite being courted by top Championship sides in January, he stayed with the Brewers to see out the remainder of his contract.
Now, with the season brought to a shuddering halt by coronavirus, Fraser is less concerned with his own future than with the safety of his hero mum, Wendy, who works as a carer in Dundee.
"It's tough," he said. "My mum's up the road. She's a key worker, so she hasn't had a day off since this started.
"She's working with older people and people who are vulnerable, so of course it's a worry.
"Myself and my girlfriend live in Derby and there was a report last week of four people dying in the hospital here.
"When you hear things like that you think: 'Should I come back up the road?'
"It's just one thing after another at the moment.
"But I think the best thing for everyone is to do what we're told in terms of getting one hour of exercise a day, then getting back into the house and staying there.
"Of course everybody wants to see the season finished.
"For me, what I'd like personally, football-wise, is a line in the sand where we can say: 'If we can't get it finished by here, then we just write it off and go again next year.'
"But there are bigger things happening right now for everybody in the country. People's health is the main thing."
Fraser has been tipped in the media for a big summer move by former Burton teammate Liam Boyce, now of Hearts.
Boyce, who profited massively in front of goal from Fraser's assists in the first half of the season, insists his old teammate is the best player in League One.
Such accolades are helping to keep the ambitious 25-year-old calm and focused.
But regular contact from Brewers boss, Nigel Clough, who will be disappointed to lose Fraser should his big summer move materialise, is helping too.
"I'll have to send Boycey (Liam Boyce) a text to thank him," Fraser joked.
"To be fair I've been quite relaxed going out of contract. My missus is probably a bit more stressed than me!
"The thing is, no clubs are thinking about transfers at the moment – and rightly so with what's going on.
"But the way we need to think is, once we get past this, football will start again, and I just have to make sure I'm ready when that comes.
"I'm not spending my time worrying about what might happen. My stats are still there for the season, nothing's going to change them.
"Myself, my agent and my family are all quite relaxed for that reason. I just need to keep my head down and keep working, away from football.
"I'm working on my fitness, making sure I'm eating the right things, and that will continue. That's as much as anyone can do at the moment.
"The manager phoned me the other day, just to check in.
"He has given us programs, runs, nutrition plans, and that has helped.
"The gaffer leaves that side of things to the sports science people, but he phoned the other morning just to check how myself and the family are doing, and that's where he's good.
"I'm like any other player – I take badly to having nothing to do.
"I got the grass cut the other day, which was badly needed! But after that, it's just about keeping as busy as possible – and that's what I'm trying to do."
Stoke City tracking Dundee United's Lawrence Shankland AND Louis Appere