Fife teen who almost died in car crash meets Tyson Fury – the man who inspired his recovery
By
Agency Reporter
A teenager who was lucky to survive a horrific car crash got through suicidal depression after being inspired by Tyson Fury's comeback – and finally got to meet his hero.
Cameron Saile, 19, from Fife was the passenger in a car which flipped and landed in a field.
Medics feared he might never walk again after he suffered a broken and dislocated neck and a broken back and sternum in the accident in October.
But he astounded doctors at Ninewells Hospital in Dundee by learning to walk again, although he faced chronic pain and depression which led him to attempt to take his own life.
Cameron, from Ladybank, admitted he struggled with alcohol and drugs before and after the crash, and has faced problems learning to manage his anger.
But as he relearned to walk, he set up a support network on Tik Tok and Instagram for other young men battling mental health problems.
And he found that watching his boxing hero Tyson Fury stage a comeback gave him the determination to face his own demons – and travelled down south in the hope of meeting him.
Last week, Cameron visited Morecambe, Lancashire, where Fury lives, and by chance met his hero in person.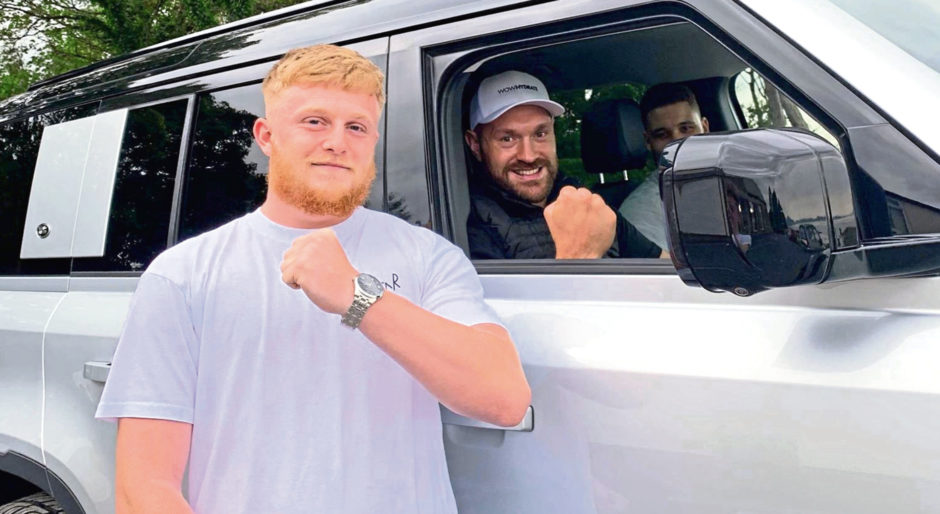 Cameron thanked Fury for inspiring him to get through his troubles and posed for a picture with the "Gypsy King".
He said: "I'm a huge fan and owe the world to him, and my life – I was down in the worst place possible.
"After the crash I had my worst time.
"I attempted suicide, didn't leave my room and wrote suicide notes.
"I was in intensive care for 10 days and had surgery, I've got pins and plates in my neck.
"I never gave up and got up and took a few steps in my room – it was like learning how to walk again.
"I started to do the Tik Tok stuff because a lot of young people use it.
"I want people to know that everyone struggles – I just want to help people, spread awareness and make it a normality for men to talk about their feelings."
Following the career of Fury, who faced similar struggles with depression, inspired him to persevere.
He tuned in to a fight between Fury and Deontay Wilder in Las Vegas in February, when the British boxer became two-time heavyweight champion of the world.
Cameron said: "When I watched the fight it kicked me on to fight and improve myself.
"We were about to come back up the road and then I looked at his Instagram story – he was playing golf at Morecambe Golf Club about 10 minutes down the road.
"We went along and he was having a joke with me and said to have a picture with him – he's a good guy. When I saw him I was nearly in tears."