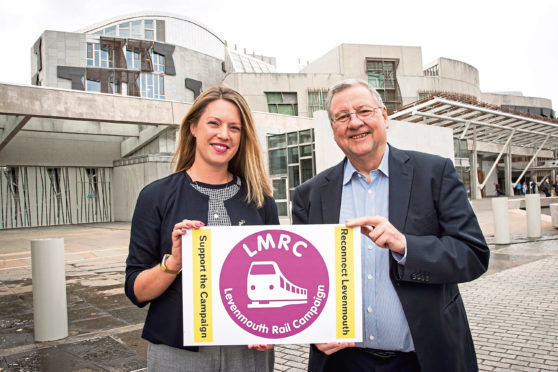 Rail campaigners have hailed confirmation that local people will help decide how a £10 million windfall will be spent in Levenmouth.
A new group will be set up involving eight community councils, Levenmouth Rail Campaign (LMRC) representatives and other members of the community to ensure the money brings maximum benefit to local people.
The multi-million pound Levenmouth Blueprint was revealed by transport minister Michael Matheson just over a year ago when he revealed the rail link from Leven to Thornton would reopen.
The money will use the stimulus of the railway to improve bus routes and active travel and ensure the area becomes a place where people want to live, work and visit.
LMRC feared members of the community would have no involvement in spending the money, jointly funded by the Scottish Government and Fife Council, but have welcomed assurance there will be full public involvement.
Chairman Eugene Clarke said: ""This is a fantastic opportunity for everyone in the Levenmouth communities and of course the surrounding area to get their share of the rail development bonus.
"We know there will need to be support for the community to help identify ideas for the area as well as spending on any specific aspects and we'll seek to get this in place.
"I'd particularly like to thank all the Fife councillors and MSPs who have supported the local community during the campaign.
"We look forward to our first meeting on August 27 and to doing our best to involve everyone in all parts of the Levenmouth community."
Fife Council's transportation head Ken Gourlay thanked LMRC for their positive contribution which allowed agreement on the way forward.
"The new group will consist of members from the local community councils, Levenmouth Rail Campaign and the wider community," he said.
"They will play a key part on deciding how the £10m for Levenmouth's blueprint is spent.
"We look forward to working with this group and seeing the improvements to Levenmouth in preparation for the rail line returning."