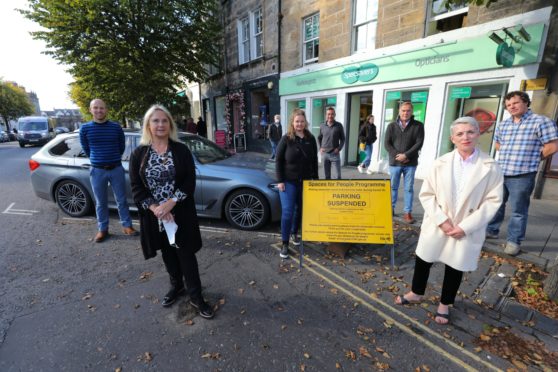 Almost 60 St Andrews businesses have warned of certain devastation as dozens of parking spaces are stripped from the town centre to aid social distancing.
Traders say action to temporarily remove 69 spaces from Market Street, South Street and West Port will have a serious detrimental impact at a time when many are already on their knees due to the Covid-19 pandemic.
The owners of 57 businesses, including shops, bars, restaurants, hairdressers and health care providers, have written to Fife Council condemning the move ahead of its implementation on Monday.
The local authority's action is part of a package of measures following a £2.4 million award from the Scottish Government's Spaces for People fund, designed to make walking and cycling safer during the coronavirus crisis.
The initiative will create more room to allow for physical distancing in a bid to protect public health, particularly as the town becomes busier with the return of schools and the university.
However, traders fear the loss of parking will put off potential shoppers just as business is finally starting to recover after a challenging six months.
In their open letter they said: "We can say without any doubt that the implementation of some of these measures will have a devastating impact on our businesses, our families and beyond.
"We have long been campaigning about the serious lack of parking spaces in the area and we strongly object to these measures and want them stopped."
The traders are also concerned about the impact on elderly shoppers, who are being discouraged from using public transport amid fears of infection.
"How can they travel if they can't park," they said.
"We have over 1,000 octogenarians living in St Andrews, many of whom rely on access to the town for essentials."
The St Andrews economy has an annual turnover of around £670m and accounts for nearly a third of all job growth across Fife.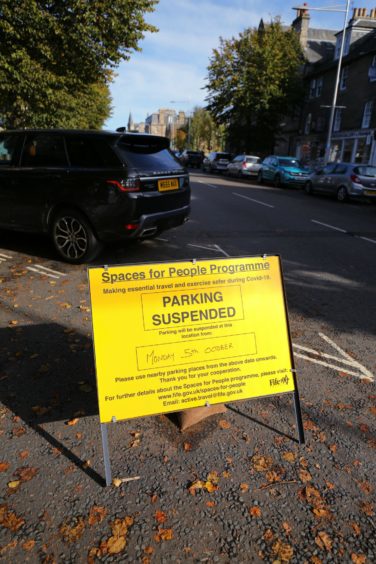 More than £280m in wages is generated within the town and while the traders agree public health must be protected, they say this must not be at the expense of the economy.
"The pandemic has placed our thriving economy in jeopardy…many of our businesses are on their knees," they said.
Fife Council said it had had to balance the needs of businesses with the very real fears over public health expressed by others in the community, but pledged to keep the measures under review.
Lead consultant Allan Maclean said extra pedestrian space had been created in areas of high footfall to allow people to pass each other safely.
Transportation and economy spokesman, Labour councillor Altany Craik, said he was aware the issue was contentious but insisted the council was listening.
"When we had consultation meetings in St Andrews there were two very different views of how it should be and we're trying to find our way through the middle," he said.
"We are in the middle of a health pandemic and this is a bit of a compromise to find something that will work.
"The last thing we want to do is hinder people's businesses but we have to be aware of the transmission of infection.
"We're in a very difficult place and trying to do the right thing with the money we have got from the Scottish Government."
He said a report would go to the area committee at the end of the month to determine the impact so far.
"We'll keep it under review and we may need to tweak it repeatedly until we get it right," he said.
St Andrews Labour councillor Brian Thomson added: "It's essential that the success or otherwise of the measures are closely monitored, and that they can be altered or removed if they're not working."