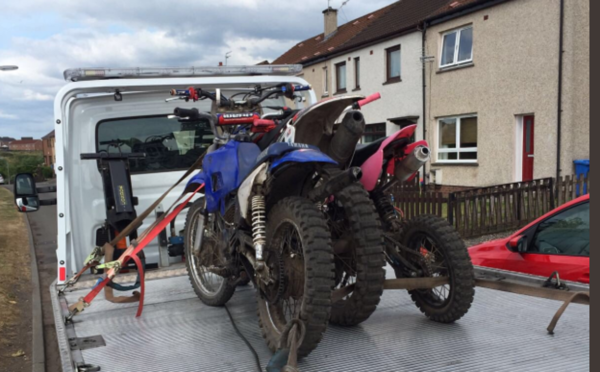 A quarter of all calls regarding nuisance quad bikes in Fife came from the Kirkcaldy area, recent analysis has shown.
A police crackdown has resulted in a significant reduction in the number of complaints from the public, with the coronavirus lockdown leading to a further drop in anti-social biker behaviour this year.
Officers have pledged to continue monitoring the situation, however, to ensure there is no resurgence wen Covid restrictions ease.
Kirkcaldy community inspector Gordon Anderson said the number of complaints about bikers in the north of the town in particular had prompted a review of incidents by a specialist police analyst.
The review found the bikers commonly gathered on a Sunday at Dunnikier Park, Templehall Avenue and Linton Lane.
Mr Anderson said targeted patrols and the deployment of the mobile CCTV van had resulted in a drop in the number of incidents from 106 in February 2019 to just 10 a year later.
"We've had a lockdown since then so that's going to affect the figures.
"Once we come through this we would anticipate an increase in quad bikes again. We have to address that as it happens and that will continue.
"It's certainly encouraging that during the summer and just before lockdown we could see incidents were coming down."
He added: "Kirkcaldy had 25% of all Fife calls about this."
Kirkcaldy Labour councillor Judy Hamilton said: "I've noticed a big reduction in the number of off-road bikes and it does feel like the police are tackling it."
Mr Anderson said the problems experienced in the north of the town were similar to those endured in the Levenmouth area over a number of years.
A targeted crackdown there has also resulted in a significant reduction in the number of complaints, with a 60% drop in calls to police in the six months to December 2019.
Sixty bikes, quads and cars were seized by Levenmouth officers between April and October and 222 people were charged with anti-social behaviour and road traffic offences.
Kingdom Off Road Motorcycle Club and various other local groups also took part in the prevention, intervention and enforcement initiative.