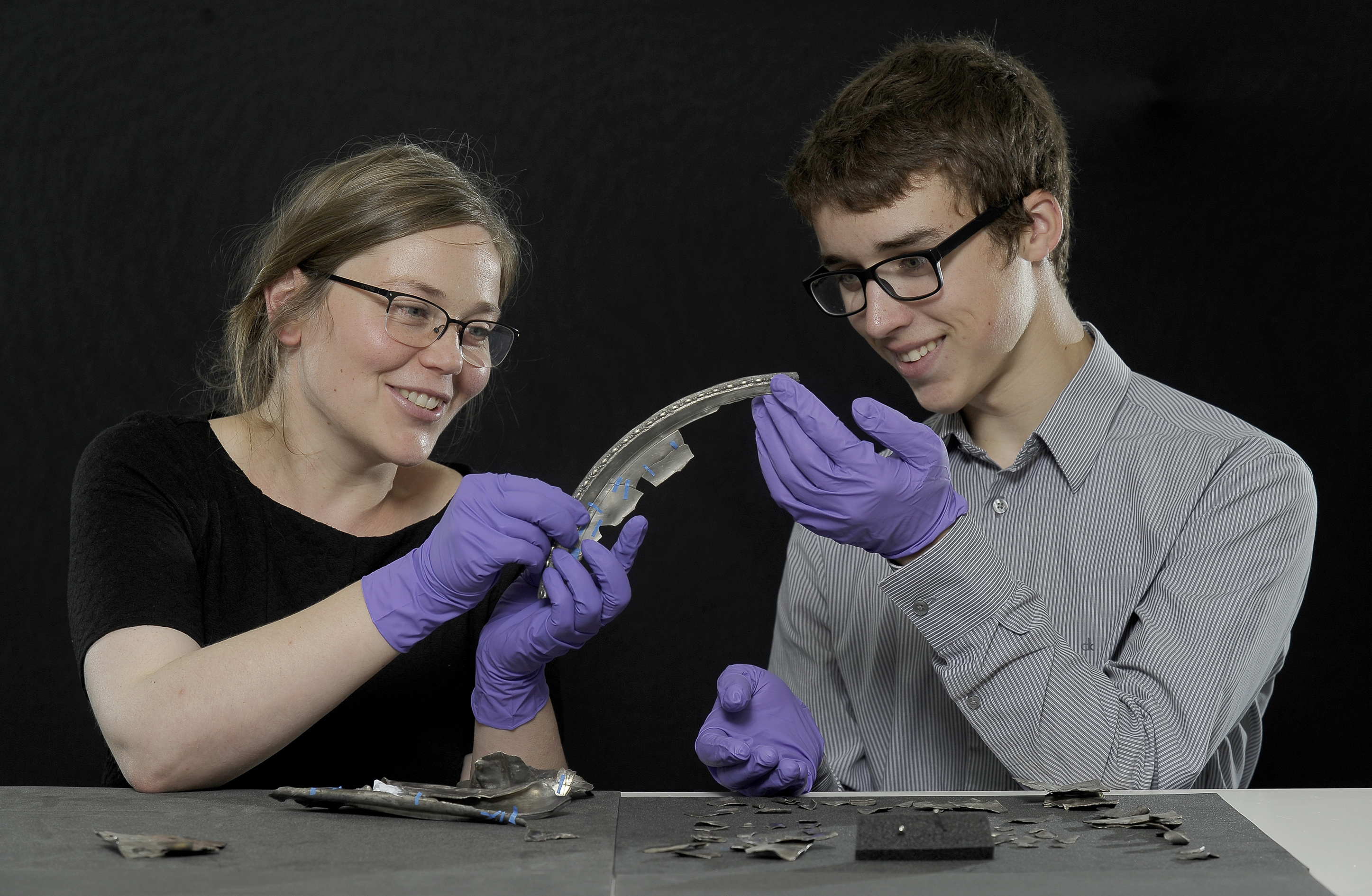 A hoard of Roman silver found in the Fife village of Dairsie is to go on show for the first time in a new exhibition at the National Museum of Scotland this October.
The treasure was found by metal detectorist David Hall from Livingston in 2014 when he was just 14 years old.
Experts have established that the Dairsie hoard dates to the late 3rd century AD and is the earliest 'hacksilver' from anywhere beyond the frontiers of the Roman Empire.
Hacksilver refers to objects literally hacked into pieces, converted from treasures into raw silver bullion.
Archaeologists think the silver came to Fife as a gift or payment from the Roman world.
The Romans could not just rely on the strength of their army – they also used diplomatic efforts to secure the empire's borders by buying off surrounding tribes.
The Dairsie hoard has given National Museums Scotland staff an additional challenge.
As well as being hacked-up by the Romans, the hoard had been shattered by ploughing.
Conservators and curators have undertaken a daunting jigsaw puzzle, reconstructing four Roman vessels from over 300 fragments, as well as examining how they had been cut into packages of bullion.
Dr Fraser Hunter, principal curator at National Museums Scotland, said: "New archaeological evidence is rewriting our understanding of Roman frontier politics, and silver was a key part of this.
"It's a fascinatingly complex picture that shows interaction and realpolitik, with the Romans changing their approach to deal with different emerging problems, and local tribes taking advantage of Roman 'gifts'.
"The Dairsie hoard is internationally significant.
"It's the earliest evidence for a new phase of Roman policy in dealing with troublesome tribes, using bribes of silver bullion in the form of hacked silver vessels.
"It's been great to show David Hall, the finder, the next steps in translating a find like this from the field, through the laboratories and on to public display."
The exhibition, Scotland's Early Silver, will show for the first time how silver, not gold, became the most important precious metal in Scotland over the course of the first millennium AD.
Displays will showcase Scotland's earliest silver, which arrived with the Roman army, and will demonstrate the lasting impact this new material had on local society.
The research is supported by The Glenmorangie Company as part of a unique partnership, and the exhibition is due to run between October 13 and February 25.