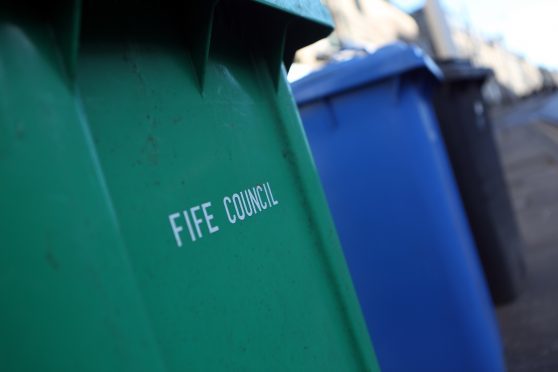 Pressure has been put on Fife Council to urgently address faltering recycling rates across the region.
New statistics released by the Scottish Environmental Protection Agency (SEPA) show levels across the region have risen by just 0.6% since 2011, despite a high profile drive to persuade residents to think more about what they are throwing away.
The data showed the recycling rate for Fife in 2016 was 54.7%  – up 2.4% on the previous year but only just above the 54% figure for 2011.
With the Scottish Government committed to a national target of 70% recycled household waste by 2025, Conservative Mid Scotland and Fife MSP Dean Lockhart has called on Fife Council to bring about radical change in its waste strategy and take note of residents' concerns about litter enforcement.
In particular, Mr Lockhart expressed concerns that conclusive results of bin collection trials launched in Fife in 2015 have yet to be published.
"I was concerned to read the statistics on the slow progress made by Fife Council over the last five years," he said.
"Frankly, continuing with the status quo is no longer acceptable.
"SNP councillors, and their Labour colleagues, must take some responsibility for stuttering progress and publish the results of its much acclaimed bin collection trial as soon as possible.
"The Scottish Government cannot continue to set targets which are quite clearly not being met without assessing their effectiveness."
The bin trials in Fife, which took place in Markinch and Coaltown of Balgonie and Thornton and Stenton, involved more than 4,000 households.
In both schemes, recycling bins were emptied more often and landfill bins less often in an effort to boost recycling rates and reduce landfill costs.
Ross Vettraino, convener of Fife's environment, protective services and community safety committee, said: "Fife is on track to meet the Scottish Government target of recycling 60% of waste by 2020, and is constantly developing the service as the council moves towards meeting the 70% recycling target by 2025 as well as meeting the landfill target of a maximum 5% sent to landfill.
"Last year Fife Council collected over 100,000 tonnes of recycling – more than any other Scottish local authority – demonstrating that it continues to lead the way.
"The council, however, can only put in place the means to recycle.
"The success of Fife's recycling initiatives is down to Fifers themselves, who use the facilities that the council has provided thereby maintaining Fife's position as a leader with one of the best recycling records in the country.
"The council is aware of the importance of bin collections to local communities, which is why the council is being extremely thorough in the analysis of the data that is being gathered in the ongoing trials, which data will be used in the preparation of the final reports."
Elsewhere, Dundee City Council's performance also saw a slight rise from 32.4% to 33.6% over the five-year period, while Perth's figure went from 52.3% to 54.7%.
A Dundee City Council Spokesperson said: "Full recycling services have recently been implemented across the city and early results indicate that recycling levels are going up.
"We are committed to improving the city's recycling rates."
The increase in Angus' recycling rate was more noticeable, however, rising from 41.8% to 56.7%.
An Angus Council spokesman said: "That is continued evidence of how people in Angus have taken to our kerbside recycling service and embraced the importance of reducing, reusing and recycling their waste. It is also testament to our waste collection staff, who work hard in all weathers to serve around 55,000 households and empty around seven million bins each year."