Scores of children have been evacuated from a Fife primary school after it was hit by a huge blaze.
More than 30 firefighters are in attendance at Cairneyhill Primary and Community School on Northbank Road, by Dunfermline, after it went up in flames shortly after 1pm.
It is understood the fire started in the infant section of the building but it soon spread to other parts of the school.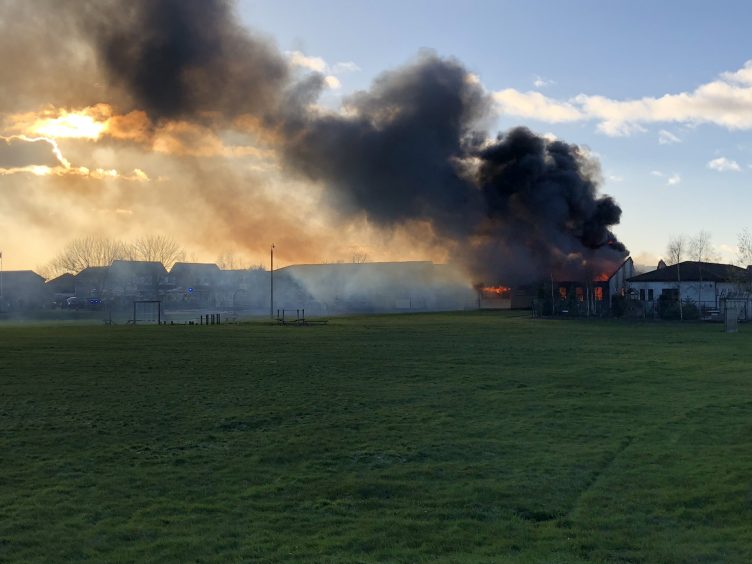 The extent of the damage is not yet clear, but Fife Council has confirmed that the school will be closed on Monday and Tuesday.
Council services are currently working to put contigency plans in place and those should become clearer at the beginning of the week.
Police have confirmed that all children have been accounted for and are safe and well.
When staff were alerted to the fire, around 200 P1 to P7 pupils were escorted to the nearby Cairneyhill Parish Church where they waited for their parents and guardians to collect them.
Many youngsters were said to be in tears as they were led away.
A fire and rescue spokesman said: "More than 30 firefighters are currently in attendance at a large fire which has taken hold within a school building on Northbank Road, Dunfermline.
https://www.facebook.com/liam.mason.90/posts/1656199327797878
"Control mobilised a total of seven appliances to the scene after the alarm was raised at 1.03pm on Friday, December 8.
"Firefighters wearing breathing apparatus are using high powered hoses to tackle the flames."
Mums, dads and other relatives have been arriving at the church throughout the afternoon after Fife Council sent messages to parents to ask them to collect their children from the church hall.
The local authority tweeted: "Fire at Cairneyhill Primary – all pupils and staff are safe and well. School has been evacuated to the church hall. Parents are being asked to collect their children from the church hall please. More info when we have it."
Children were reunited with their parents at the church on a class by class basis, with any children not collected being told to remain in the church hall.
Susan Slater, a member of the parent council, paid tribute to that particular operation as she waited for her youngster.
"The teachers have been amazing — I can't praise them enough," she said.
Cars lined the A994 through the village as parents arrived to pick up their children, causing lengthy traffic queues in either direction.
A statement from the police said: "Fire at Cairneyhill Primary School. All pupils safe and well. Locals please keep windows closed. Kids going to the church.
"Please keep away from Northbank Road while emergency services deal with fire at the school. Children will be in the church hall."
Fife Council confirmed the school had been evacuated and that staff and children are well.
Group manager Richie Hall, incident commander, said: "Firefighters from Dunfermline and Lochgelly were the first to arrive at the scene of this well-developed fire.
"They encountered very dense smoke and flames issuing from this single storey building.
"Those firefighters were soon joined by colleagues from Alloa and Falkirk, and they worked to ensure all pupils and staff were evacuated before turning their full focus on locating the source of the flames.
"It was a challenging environment but they did a tremendous job through difficult conditions to find that source, contain the fire – and then fight it.
"Their efforts meant that the fire, located in the centre of the building, was prevented from spreading any further.
"I would like to commend all of the firefighters for their outstanding efforts in bringing this incident to a swift and safe conclusion.
"We are also grateful to all of our partners for working closely with us to ensure the safety of the local community.
"I must also pay credit to both the children and the school staff who evacuated quickly and calmly, and made their way to a place of safety."
For full coverage, see Saturday's Courier