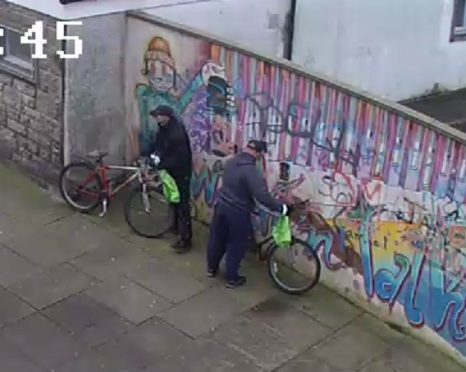 Police investigating an armed robbery at a Kirkcaldy bank have re-stated their belief that someone in the community is sitting on crucial information.
Monday marks the second anniversary of the raid at the Templehall branch of TSB, when two men, one brandishing a handgun and the other a crowbar, burst into the building demanding money.
After snatching more than £11,000, the pair fled the premises on Dunearn Drive on mountain bikes.
Previous high-profile police appeals, including an appearance on BBC's Crimewatch Roadshow, have failed to result in any major breakthroughs.
However, the hunt goes on and officers in charge remain adamant that locals hold the key to cracking the long-running case.
Detective Inspector Paul Dick of Kirkcaldy CID said: "This robbery was a harrowing experience for the bank staff involved and the support for them and for our investigation at the time of the incident has been tremendous.
"Since this incident took place we have conducted a number of enquiries to trace the two men who entered to TSB on Friday, January 29, 2016.
"Kirkcaldy CID are continuing to actively investigate all possible lines of enquiry and we  are still committed to bringing the two men responsible for this crime to justice."
The team previously released CCTV images and footage to the public which shows the two suspects and DI Dick is asking people to look again to see if anything jogs their memory.
"We remain of the opinion that someone in the community may still hold vital information and I would ask anyone who still can assist our enquiries to get in touch with us at their earliest convenience," he added.
One of the men involved in the raid is said to have spoken with an Eastern European accent and Interpol has been among the agencies involved in the investigation.
One of the pair was in his late 20s or early 30s with dark stubble on his face. He was wearing a dark baseball cap and dark clothing.
The second man was aged around 30, 5ft 9in and medium built with stubble.
He wore a dark baseball cap, dark blue or grey hooded top, dark trainers and dark blue jogging bottoms with a white motif running partially down one leg.
They arrived at the bank from the direction of Alford Avenue and returned that way after the robbery.
Anybody with information can
contact police on 101 or Crimestoppers anonymously on 0800 555 111.