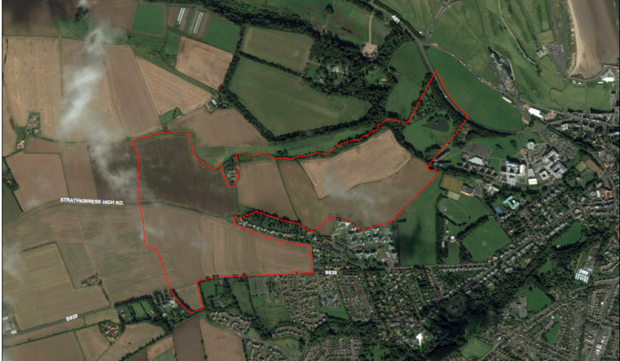 Fears have been voiced about the ability of St Andrews to cope with the construction of hundreds of new homes.
The town's community council has warned that roads, infrastructure and health services will come under pressure from around 1,000 properties planned in the St Andrews West expansion.
The St Andrews West LLP consortium has applied for planning permission in principle for a mixed development of residential, university, business, education, local retail and community uses as well as associated infrastructure.
An objection has been lodged by the Royal Burgh of St Andrews Community Council, stating 'grave' issues with the proposal.
Chairman Callum MacLeod, said: "The St Andrews Community Hospital is at capacity and it does not appear that there has been any discussion with general practitioners about how they will cope with such a huge increase in the numbers for whom they are expected to provide health care."
He cast doubt on the transport assessment conducted for the consortium by Modus Transport Solutions, claiming it underestimated the traffic likely to be generated by the expansion.
He said: "MTS exhibit a complacent acceptance of long traffic queues during peak periods, both in Guardbridge and at some key junctions in St Andrews, including the West Port.
"They do not address the consequent air pollution and the potential adverse health effects."
Mr MacLeod said the landscape setting of the historic town was considered as important as the town itself and said: "It will be virtually destroyed by the imposition of the western extension."
A study published by Fife Council in 2003 concluded there was no scope for major development round St Andrews and that most of the land in St Andrews West was in a category where author Alison Grant deemed 'development is inappropriate because of its potential impact on the landscape character, scenic qualities or visual attributes of St Andrews and its setting'.
Mr MacLeod also called for assurance that agreements on water and sewer capacity with Scottish Water could be in place before any construction began.
Stepal (St Andrews Environment Protection Association Ltd), however, voiced support for the development.
Secretary Sandra Thomson told Fife Council planners: "It is considered that this is the best area for the growth of the town, given the suitability of the land for building on and the limitations in all other directions – the southern ridge of the landscape setting, the sea to the east and the golf courses to the north."
The association did, however, say proposed road and pedestrian and cycle links were 'problematic' and said a foot and cycle bridge over the A91 was needed.
The developers – including Headon Developments, St Andrews University and other landowners – say the expansion will hugely enhance one of Scotland's most historic towns.
They say it will create a dynamic business, residential and learning quarter on land at North Haugh, Langlands, Northbank and land between Strathkinnes High and Low Roads.
If approved, development would be conducted over 20 years.