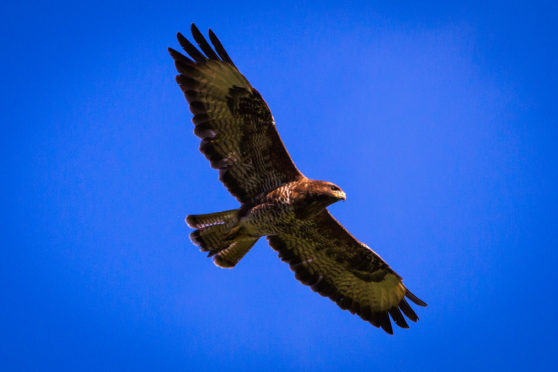 A Fife man has warned people enjoying the great outdoors this weekend to be wary after being subjected to a sustained attack by a buzzard.
Tom Davidson, 62, from Ceres, was running along the back road from Cupar to Letham last week when he was repeatedly dive-bombed dozens of times by a huge bird of prey.
Thankfully Mr Davidson avoided serious injury, but the keen runner hopes his experience will encourage others to watch out if roaming around the countryside.
"It was a really terrifying incident," he said.
"I don't know if there's much runners can do to be honest, but it kept on coming at me and I was lucky I wasn't seriously injured.
"I could hear it swooshing down, almost like the sound of a glider, and it really came at me at some rate of knots.
"It just missed my ear and luckily it didn't hit me with its talons, as I've heard of joggers receiving some really nasty injuries.
"I've been jogging all my life and I've never come across anything like that before."
Mr Davidson had been part the way into a 10-mile run towards Fernie when his ordeal began.
"I just heard a screech and knew it was a buzzard," he recalled.
"I just kept on running but it kept dive-bombing and doing that for around quarter of an hour, so I had cause to be a wee bit frightened.
"I kept running and managed to get far enough away from its territory and ran to Letham, but I knew I had to come back the same way.
"With some trepidation I ran back, and the buzzard carried on where it left off with the same level of assault, if not worse.
"This was a big, strong bird. It must have dive-bombed me more than 40 times and each attack seemed to get more aggressive."
Mr Davidson admits the attacks will not deter him from running in future, although the altercation with his feathered foe has changed his plans somewhat.
"I know it doesn't happen every day, but I'm definitely not going to go along that road for a wee while after what happened," he said.
The RSPB says such displays of aggressive behaviour from buzzards is rare.
"While clearly a distressing incident for the person involved, this is not usual behaviour," the spokesperson added.
"The jogger was in all probability running close to a nest, and as we are coming to the end of the breeding season when chicks are starting to fledge, the reaction of the bird was one of a protective parent."