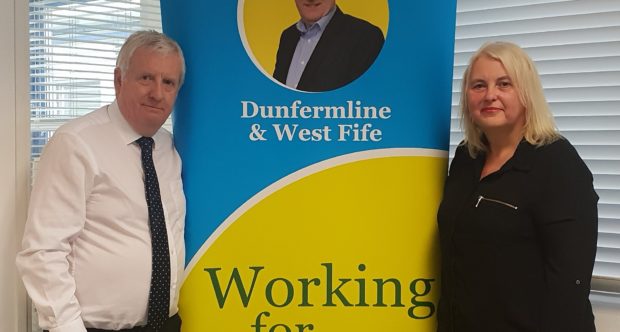 Fife MP Douglas Chapman has "uncovered some alarming facts" about the way the UK Government is handling complaints from WASPI women.
The Dunfermline and West Fife SNP politician claimed some complaints are taking well over a year to be examined.
He is supporting local woman Vivienne Coats who was given notice that her state pension age was being increased to 65 after she had already taken early retirement.
Mrs Coats submitted a complaint about the lack of notice in July 2017 and is still awaiting a final response.
The Women Against State Pension Inequality (WASPI) campaign was formed to fight for the women affected by the change in pension law.
Mr Chapman said the WASPI campaign wasn't about opposing the equalisation of pension age, but the "frankly contemptuous way" women had been treated.
"Vivienne is one of many women who have rightfully lodged a formal complaint to the Department of Work and Pensions to express her deep dissatisfaction with the utterly incompetent approach the UK Government has taken to notifying her of this change.
"That she has had to wait over 14 months and counting for a response is completely unacceptable."
Mr Chapman said those who had elevated their complaint to the Independent Case Examiner (ICE) were facing a long wait as its caseload had risen by 250%, with no extra resources to deal with that.
"With just three existing case managers assigned to examining WAPSI complaints and no plans to increase this, these women, who are guilty of nothing, are being doubly let down by the UK Government."
Mrs Coats took early retirement in 2010 when she was 56 and was devastated when she found out she would have to wait nine years for her pension.
"I felt like I was up against the Government, a woman alone.
"I am a proud, independent woman but I am having to rely on my husband to support me financially.
"I feel like this is all really depressing and disrespectful that the UK Government will not respond to my complaint."
Shadow SNP pensions spokesperson Mhairi Black said: "The Government could end the need for complaints to ICE altogether, however, if they simply admitted their mistake and brought forward a fair solution for these women."
A DWP spokesperson explained the decision to equalise the state pension age achieved a long-overdue move towards gender equality.
"We have thoroughly reviewed the options for equalising the state pension age, listening to concerns along the way," they said.
"As a result, we have spent an extra £1.1 billion to ensure that nobody will reach the state pension more than 18 months beyond when they would have done under the original 1995 Pensions Act timetable."