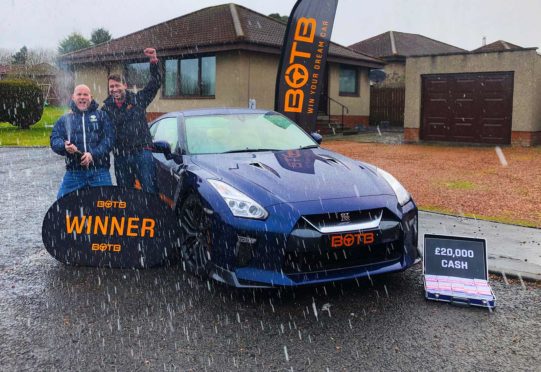 They say good things come in threes and that was certainly the case for Fife man Derek Hastie.
The lucky Glenrothes resident has won a prize worth £105,000 in a competition run by Best of the Best (BOTB), the dream car and lifestyle competition company.
Derek scooped a Nissan GT-R Recaro sportscar worth £85,000 along with £20,000 in cash.
It was the perfect end to a great week for Derek and his family, who celebrated his son's sixth birthday on the same day and also welcomed Bullmastiff puppy Rocco into their lives days earlier.
BOTB's Christian Williams delivered the prize on Tuesday, while Derek was home looking after the new dog.
He said: "I'm still in shock, I just can't believe I've won, especially on the same day as my son's birthday.
"I'm not sure that I'm going to let the dog in the car though."
Listed on the stock market, BOTB has high-profile stands at airports and in Britain's biggest shopping centres.
Derek's wife Louise had a shock of her own when she was called by Christian on Monday to arrange the surprise for her husband.
"She was so was shocked – you just don't expect these things – and it turns out that her office even knew before me," Derek added.
Derek said the prize money will go towards home renovations and potentially a static caravan in Pitlochry where Derek and his family can go for some rest and relaxation.
He said: "Not a penny will go to waste, I promise you."