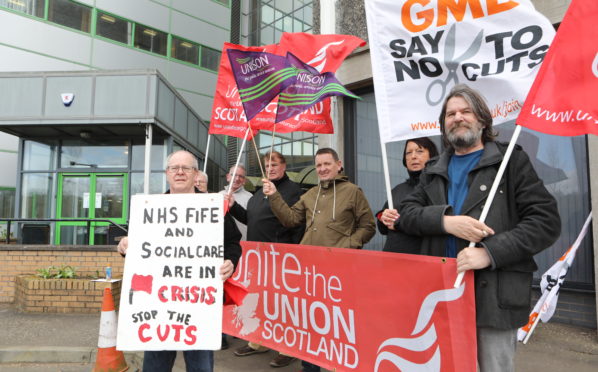 Proposals to cut council-run care home provision in Fife were rejected yesterday as more than £8 million was slashed from the region's health and social care budget.
Bosses had proposed closing the Matthew Fyfe Care Home in Dunfermline and finding places for its elderly residents in the private sector.
They had also hoped to ditch plans to build a new Ladywalk Care Home in Anstruther to replace the current building, which is to close.
But members of the Integration Joint Board said the move – which would have saved £378,000 – was a step too far, despite the challenging budget position.
Fife Council's health and social care spokesman, Labour councillor David Graham, said the agreement had the potential to cause huge reputational damage following an extensive consultation exercise.
He added: "If we were to go back to the people of Anstruther to tell them they weren't getting a new care home it would be catastrophic."
A range of other measures were voted through however, meaning the cost of community alarms and meals on wheels will rise, new high-cost care packages for adults will be capped at £31,000 and the range of equipment on offer to help frail people live independently at home will be reduced.
Two day care centres will close in north east Fife – the Leng in Newport and St David's in St Andrews, which are underused and in need of extensive repairs.
Alternative buildings will be found to house all service users and assurances were given nothing would happen until everyone affected had been consulted.
In all, measures to cut £8.4m from the budget were agreed, leaving £6.9m of savings still to find.
Agreement came despite a bid to persuade the board to refuse to set a budget in protest at continual under funding of local services.
Conservative councillor Tony Miklinski said: "While these savings measures today are difficult, they're not as difficult as the ones we're going to face going forward to close the gap.
"Evidence of that tells me we should not set this budget but seek instead an urgent meeting with the health secretary Jeane Freeman to enable the IJB to access the extra funding from Westminster which will allow the IJB to balance its books."
The suggestion was dismissed as "ludicrous" by Fife Council's co-leader David Alexander (SNP), who branded it a stunt.
The budget was passed amid protests by trade unions and members of Fife People's Assembly, who said the cuts were hitting those most in need of help.
Health and social care director Michael Kellet said the challenges faced were clear and would continue in the future.
"We need to be more radical about prevention and early intervention and how we mitigate demand on stretched services and will need to be bold in taking some difficult decisions," he said.