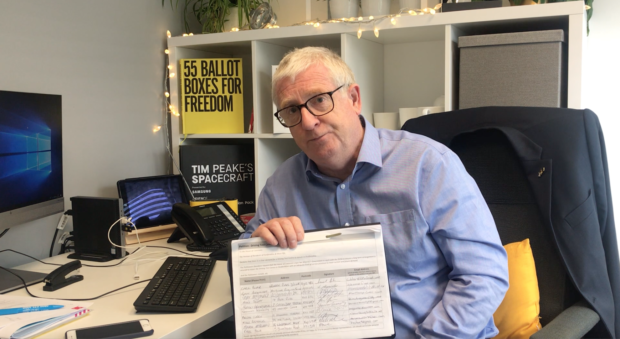 A petition to save Dunfermline's driving test centre has been lodged with parliament.
Believing the campaign is "on the cusp of winning the day", local MP Douglas Chapman is urging the UK Government to secure the long term future of the centre amid claims of "broken promises".
Despite only being launched on July 15 and running for four days in two sites – the Vine Centre and Dunfermline Advice Hub – it has gathered scores of signatures.
The SNP Dunfermline and West Fife MP is now lodging it with the House of Commons before the summer recess.
"I launched this petition after a number of promises were broken by the Driver and Vehicle Standards Agency on the future of driving test centre provision in our town," he said.
"This was a chance for examiners, instructors, parents and new drivers to send a message to the government that Dunfermline needs a driving test centre that can cope with the demand of a fast growing town."
The DVSA cut the capacity for tests from five days to three.
On some days the number of examiners also went down from three to one, he said, meaning waiting times almost doubled to nine weeks.
The politician said: "This will send a strong message to the government that we will not stand for a sub-standard service.
"I would also extend that thanks to the Vine Centre once again for providing their services to the DVSA free of charge so Dunfermline can still have a driving test centre."
Mr Chapman also had a call with senior management at the DVSA during which reassurances were given on waiting times which were said to be "unacceptable".
He added: "We are on the cusp of winning the day and securing a long term future for the Dunfermline Test Centre.
"The reassurances must be translated into action and in speaking to the DVSA I will be monitoring progress over the next few months before we can claim victory for Dunfermline."
DVSA director of operations north, Peter Hearn, said: "We are committed to providing driving tests in Dunfermline and are currently assessing the operational suitability of the Vine Centre.
"We are working to reduce the current waiting time in Dunfermline by exploring the options of deploying more examiners to Dunfermline and providing out of hours testing."
Mr Hearn said he had give Mr Chapman his commitment that he will keep him updated on the situation as it develops.
He added: "It is important learner drivers are prepared to drive safely on all roads, not just those with which they are familiar."