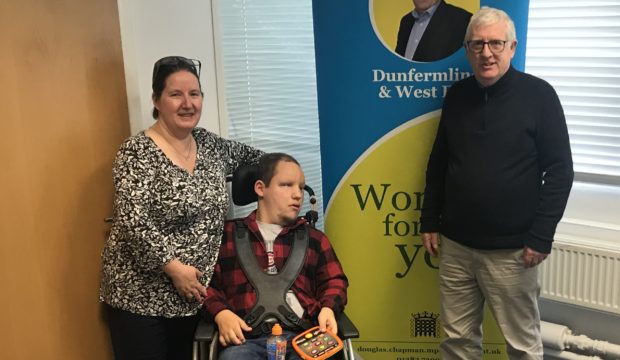 A Fife family say they fear for their future if a no-deal Brexit halts the vital supply of medicine to their severely disabled son.
Jonathan Fisher, affectionately known as The Bold Joff to his devoted family, has a rare genetic disorder called Lowe Syndrome which mainly affects the eyes, brain and kidneys.
The 25-year-old Dunfermline man has profound and multiple physical, sensory and learning difficulties and needs round the clock care in all aspects of his life.
He also requires six regular medications to keep him on an even keel. Four of these are taken a number of times throughout the day and three of them, including one to treat his epilepsy, are made in the EU – in France, Spain and Italy.
His family, who moved to Fife from Lossiemouth when Jonathan was only four, say they are worried about future supplies and have made arrangements with their GP and pharmacy to stockpile a small extra supply of the EU-based medicines.
Mum Fiona said: "This gives us about two months in hand, but if that runs out the biggest fear is for the epilepsy medicine.
"The worst kind of seizures are associated with respiratory failure and are not to be taken lightly. Even with lesser seizures there are no guarantees they could be brought under control and any seizure is bad for the brain.
"Hundreds of thousands of people are affected, it is just awful."
Jonathan's family spoke out yesterday as it emerged UK Government ministers were preparing to spend £300 million on airlifts and other measures to ensure the supply of emergency food and medicine after a no-deal Brexit.
Transport secretary Grant Shapps said the plans could include trucks loaded onto cargo planes, as well as trains and ships.
The medicines issue has been raised by Dunfermline and West Fife SNP MP Douglas Chapman with UK Health Secretary Matt Hancock.
He said cases such as those of the Fishers brought home the real life impact of Brexit and a lack of preparation and communication by the Conservative Government was leaving families in the dark.
"This is causing extreme worry and anxiety for Jonathan's family," he said.
"They dedicate so much of their time to look after him and need to know if they will be able to continue to successfully care for him.
"I would urge the government to seek a guarantee that supplies of vital medicines will continue after Brexit, deal or no deal," he said.
A Department of Health and Social Care spokeswoman said: "We are doing everything appropriate to prepare for EU Exit on October 31.
"Our priority is for all patients to continue to have access to medicines and medical products when we leave the EU.
"We are working urgently with all our partners and our plans should ensure the supply of medicines and medical products remains uninterrupted."