Chilly Glasgow provided a taste of things to come for a line-up of classic cars as the city gears up for the magic of the Monte at the start of 2020.
In a preview for the start flag falling on the Monte Carlo Rally UK, a Mini identical to that which won the legendary event in 1967 lined up alongside a 1968 Volvo and 70s MG in a red, white and blue flavour of the 100-entry field which will gather in George Square at the end of January.
The city is the only British start point of seven European cities including Athens, Milan and Barcelona, with the 2020 start being the 10th since it returned to Scotland through the efforts of Broughty Ferry enthusiast Douglas Anderson.
Competing crews will leave the ramp in front of the City Chambers for the 1,300-mile trek to the south of France – including an Austin A40 at the hands of a Tayside GP and his brother 25 years after their father took part in the same car.
Care and crews making the full Monte trip compete in either the Historique or Classique categories involving vehicles from as early as 1911 right up to the 80s.
The Classique challenge is being taken on by Dundee doctor Colin Levin and his brother Richard in their late father's 1961 Austin A40.
Colin said: "It's a great tribute to dad to attempt the Monte in his car, with the added bonus of leaving from Glasgow where he lived for 83 years.
"Neither of us has been in an event like the Monte – we are a real couple of rookies".
Popular Monte Heritage runs link with the full-scale events and will take in a series of short classic routes in Scotland including starts from John O' Groats and Aberdeen, with around a dozen crews already registered to start from the northernmost landmark.
Scottish start events have become an annual spectacle for motorsport fans and the January 29 send-off will see a classic car show in George Square during the afternoon before the contenders are flagged away.
Event director Mr Anderson said: "Glasgow is one of Europe's great cities and everyone involved in the organisation of this event is delighted to be back here for the 2020 start.
"Once again it will raise the profile of the city to an international audience and I'm sure the competitors' send-off from George Square will be an occasion never to be forgotten."
The pre-event array was led by Stirling enthusiast Geoff Marr's 1966 Mk1 Austin Mini Cooper S 1275, an exact replica of the five cars which took the team prize in the 1967 Monte Carlo Rally in the hands of drivers including rally legend Paddy Hopkirk.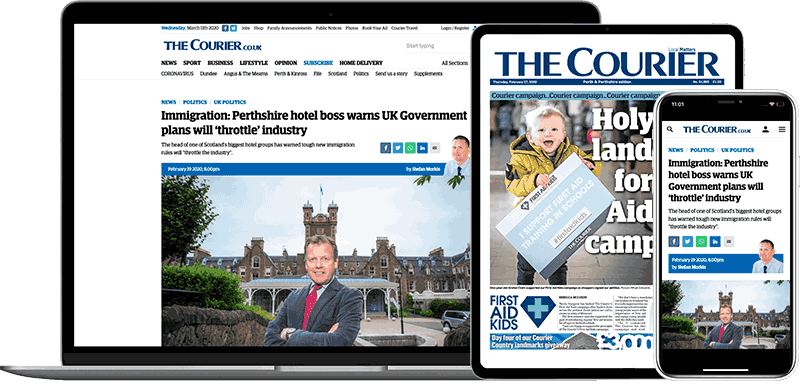 Help support quality local journalism … become a digital subscriber to The Courier
For as little as £5.99 a month you can access all of our content, including Premium articles.
Subscribe