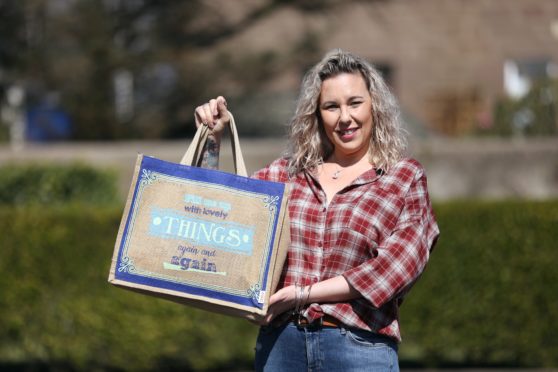 When Voluntary Action Angus started looking for people to lend a helping hand during lockdown, Kelly Christie did not hesitate to come forward.
The 38-year old has wanted to do her best to help people ever since the kindness of others got her through her recovery from brain surgery.
An accident 14 years ago left Ms Christie having to relearn how to live an independent life. She didn't even recognise her then five-year old daughter Megan.
But with the support of others, especially Megan, she battled through and is now able to live with her injuries — although she still lives with some effects to this day.
She said: "I have been through a lot in my life so I know what it's like to need the help of other people.
"It (Voluntary Action Angus) is a lifeline for a lot of people. I have got about 10 to 12 regular people that keep me busy every week.
"The team has come together in a crisis and we have all worked hard together for the Montrose community.
"Team work is what has made this work during the crisis.
"I volunteered at the start of lockdown and I'll be here until the end."
The former-chef was told she would never be able to work again after her surgery, but she fought through and retrained as a health beautician — founding her own business Jewels not Tools by Kelly.
And she hopes to retrain further, with plans to study at Abertay University to become a psychologist or counsellor.
She added: "I had to relearn life all over again. I have been through a lot of different experiences, all before I'm 40, that a lot of people wouldn't experience.
"But I've got to where I've got to and now I can help other people.
"I had a lot of professional help but also help from friends and family in my four or five years in recovery.
"And in the last 10 years I have been learning to live with it and to value myself.
"I get tired really easy. I don't cope well with stress, but I have got a thing about throwing myself into stressful situations.
"Depression and anxiety is also also an issue as well as epilepsy.
"You can want to do one thing, but your brain tells you no. It's like you're fighting with your brain."
Daughter Megan, now 20, was one key people in Ms Christie's recovery.
"I wouldn't be here if it wasn't for Megan. He had to deal with a lot," she said.
"She was only five when it happened. She had a whole new mum to deal with.
"But she wanted to learn about the injury and help. We have a great relationship now.
"She was my lifeline."