An Angus minister has officially been installed as the new moderator of the Church of Scotland, in a special service broadcast live.
Right Reverend Martin Fair, who will represent the kirk at home and abroad for the next 12 months, described the role as a "huge honour".
The special ceremony was held at the General Assembly Hall in Edinburgh on Saturday morning and streamed online, as the annual gathering was cancelled for the first time since 1689.
Dr Fair, 56, has served as the minister of St Andrew's Parish Church in Arbroath since 1992, and will continue in the post alongside official duties.
The appointment marks the first time an Arbroath minister has served as the Kirk's ambassador and coincides with the 700th anniversary year of the Declaration of Arbroath.
Dr Fair succeeded Very Reverend Colin Sinclair and was inaugurated in front of a small group of people including his wife, Elaine.
The service, opened by Mr Sinclair, included hymns, prayers, readings and benediction and followed social distancing guidelines.
Other than the outgoing and incoming moderators, the only other participants in the hall was the Principal Clerk, Rev Dr George Whyte, who will read a passage from the Bible as he would have done at the opening of the General Assembly.
Broadcast live on the Church of Scotland's website and Facebook page, First Minister Nicola Sturgeon recorded a video message to congratulate Dr Fair on the appointment and said she looks forward to "tackling the challenges, and seizing the opportunities" with the moderator.
Dr Fair has thanked the local community for their support as he takes on the new role.
He said: "It has been 420 years since the Church of Scotland came into being and in all that time there's not been a moderator from a church in Arbroath so it's a huge honour.
"I'm really delighted to have that honour this year when Arbroath celebrated 700 years of the declaration of independence so it comes together nicely for that.
"Members of my congregation are absolutely thrilled. I've been one of the ministers in the town for almost 30 years so I've come into contact with people from every walk of life and the messages and cards coming in have just been amazing.
"Colin has done a fantastic job in the role of moderator and it feels like a big pair of boots to step into but I will give it my best shot."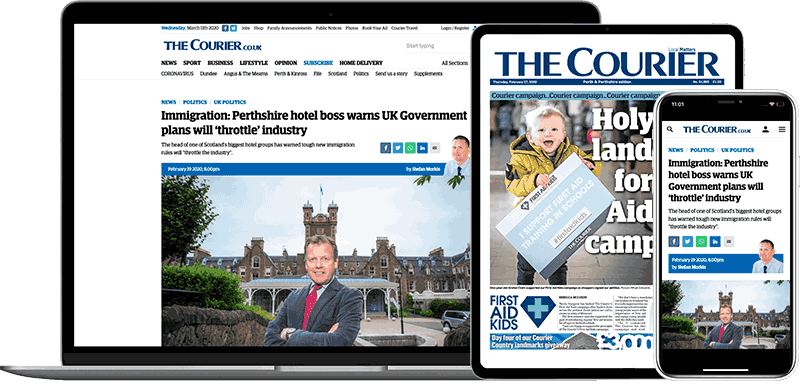 Help support quality local journalism … become a digital subscriber to The Courier
For as little as £5.99 a month you can access all of our content, including Premium articles.
Subscribe