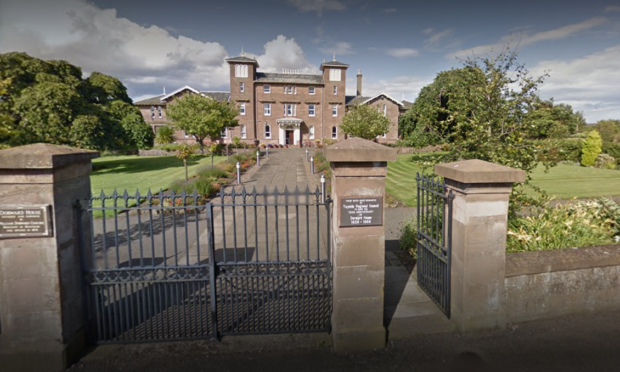 A staff member has tested positive for Covid-19 at an Angus care home which had been coronavirus-free for the past two months.
Residents at Dorward House in Montrose will remain locked down in their own rooms following the latest development, as directors at the 182-year-old home hope it is an isolated case.
The care worker was symptom-free but registered positive under the weekly testing regime at the centre, which has 28 bedrooms and offers high dependency dementia care and respite provision.
Dorward House is privately-run under a board of directors, whose chairwoman Hester Howie praised the "dedication, resilience and compassion" of staff throughout the pandemic.
"The staff member who was, and remains symptom-free, was identified positive through the weekly testing which took place for all staff of Dorward House," she said.
"The directors look forward to her returning to her duties as soon as she is able to do so, and are satisfied that the high standard of infection control achieved by Dorward House – which until this case has been completely virus-free throughout the past two months – will continue to be maintained.
"From the surveillance testing results of July 8, all residents and staff have shown negative."
Mrs Howie said the guidance and advice from the Scottish Government, NHS and Angus Health and Social Care Partnership had been followed, with residents being isolated in their own rooms during lockdown.
She added: "All staff teams have worked tirelessly and have adapted their work patterns to deal with this and ease, as far as possible, the inevitable distress to residents and their families.
"All families and friends have been supported and will continue to be kept up to date with official guidance and advice and how this impacts on the care and experience of the residents."
Mrs Howie said: "The directors recognise the dedication, resilience and compassion shown by all staff throughout the pandemic, and the vital part that each has played in continuing to provide the highest quality of care to meet the assessed needs of every resident."
The home was established by town benefactor William Dorward, originally as a 'house of refuge' for the destitute in Montrose.
A spokesperson for the Care Inspectorate said: "We understand this is a really worrying time for people who experience care, their loved ones and families and for those who work in care.
"The service has notified us and we are in close contact to provide advice and guidance."