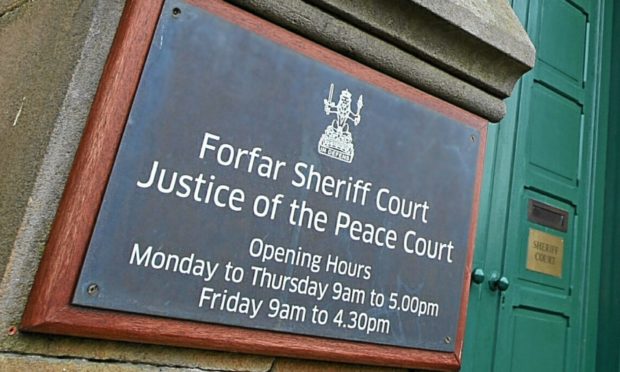 The trial of a Fife farmer accused of damaging nationally important standing stones on an ancient Angus site has been delayed into next year.
Andrew Simpson is alleged to have damaged the Neolithic or Bronze Age circles near Kirriemuir after carving a path through the site in a tree-clearing operation.
Prosecutors say he caused damage to two stone circles and three monoliths with mechanical works and then tried to repair it by replacing the stones after being told he should not.
The Cupar 81-year-old denied four charges brought under the 1979 Ancient Monuments and Archaeological Areas Act when his case called at Forfar Sheriff Court on Tuesday.
Simpson, of Parbroath Farm, Cupar originally pled not guilty by letter to the summary complaint and had been scheduled to face trial during the summer.
However, the case was delayed by the coronavirus pandemic and the court has now been told that the accused has changed his solicitor in the matter.
Simpson was not present in court but an intermediate diet in the case was scheduled for February 2 next year, with trial set for May 12.
He is accused of damaging two standing stones in the easternmost stone circle of the registered monument at Baldovie Wood, Greenmyre Farm, Kirriemuir, between December 1 2018 and February 18 last year without reasonable excuse by getting a contractor to carry out work to create a track.
The charge alleges one of the stones was pulled from its original position and the other completely removed.
A second charge alleges that Simpson carried out the work without lawful authority on the stones, which he ought to have known were within a protected monument.
He is also alleged to have caused further damage without reasonable excuse after instructing the backfilling of the track between February 19 and April 15 last year, having been advised not to carry out further works.
The fourth charge on the complaint faced by Simpson alleges the works between February and April were also carried out without lawful authority.
The two stone circles and three monoliths at the site are thought to date from the late Neolithic or Bronze Age, the late third or second millennium BC.
The monument is recorded by Historic Environment Scotland and was first scheduled in 1937 in a site described as having high archaeological potential in the prehistoric landscape of Strathmore.