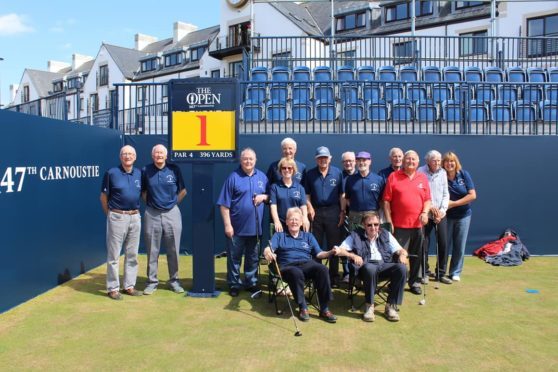 Vandals have trashed a banner belonging to a Carnoustie sporting memories group still on a high after the success of this summer's Open Championship.
The excitement surrounding July's event over the Angus town's famous golf links brought a bounce for members of the Carnoustie Memories group, and the endorsement of one of the game's big names after US Masters winner Adam Scott dropped in to learn about their work.
Launched in 2015, the group uses both golf and football to help people affected by dementia or memory loss come together on a weekly basis and share their personal recollections.
The Golf Memories group is regularly attended by around 15 members, the majority in their late 70s, and its profile was significantly boosted by both Scott's visit and the interest from visitors in the record-breaking crowd which arrived in Angus to witness the event which saw Francesco Molinari become the first Italian player to capture the famous Claret Jug.
Carnoustie Memories chair Lorraine Young said: "The interest in Golf Memories in the run up to The Open and the special visit by Adam Scott has increased our membership and led to offers of support and significant interest in establishing similar groups, based on our model, at both home and abroad."
Group members also enjoyed the spectacle with R&A gifted tickets.
"Sadly, after all of these positives, at some point over last weekend one of the large banners produced to promote the group and displayed, just prior to the start of The Open, on the railings at Kinloch Care Centre in Carnoustie has been subjected to wanton damage," said Lorraine.
"Volunteers and friends are extremely upset that anyone would wish to do this.
Golf Memories is organised and run entirely by volunteers, our financial support is solely as a result of our own fundraising activities or very kind and generous donations."
"The matter has been reported to police and we are asking anyone who has any information, no matter how small or seemingly insignificant, to contact them.
"Golf Memories is organised and run entirely by volunteers, our financial support is solely as a result of our own fundraising activities or very kind and generous donations."