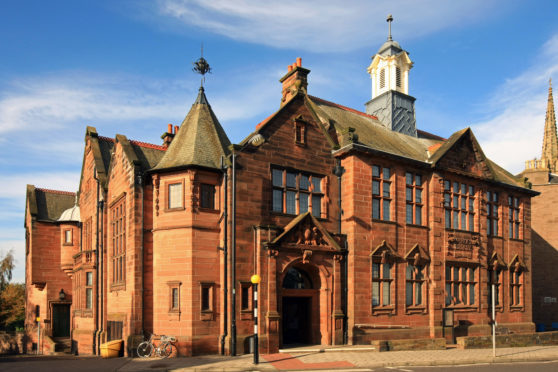 Montrose Library has reopened following a £1 million refurbishment by ANGUSalive to turn it into a "flexible community space".
The facility now houses Angus Council customer services and several meeting rooms as well as library services. Work on the building started in December.
The children's library has been given a magical seaside adventure theme honouring the Montrose motto 'the sea enriches, the rose adorns'.
Upstairs, the Rose Room has been named to reflect the Montrose-themed stained glass window above the library's staircase and the burgh arms above the entrance bay.
It is digitally enabled and offers an accessible space for community, professional and commercial exhibitions, large group activities, meetings or private functions such as weddings, parties and celebrations.
The Esk Pod can be booked for small meetings, group study or client meetings.
There is also a smaller function room dedicated to Montrose's first public librarian, James Christison, which is also suitable for small group activities and meetings.
Montrose Library opened in 1905 after £7,500 was gifted by Scottish philanthropist Andrew Carnegie.
Arlene Henderson, ANGUSalive facilities officer, said: "I can't wait to welcome our customers, old and new, to this fantastic new space.
"Montrose library is 113 years old and this amazing refurbishment will ensure it continues to provide a first-class facility for our community for many years to come."
A grand opening day celebration will take place on Saturday from 11am, when the building will be officially opened by crime author Stuart MacBride.
Work to refurbish the library was initially budgeted at £820,000. However, major additional works were subsequently added, leading to the budget rising by almost a quarter to £1,015,000.
The large overspend has been alleviated by an underspend of £168,000 on similar works at Carnoustie Library.
Among the additional works were windows being replaced and a new heating system.
Angus Council's communities convener Councillor Mark Salmond said: "We are thrilled with the results of our continued investment in public libraries in Angus and we are confident that this beautiful building has been sympathetically enhanced as a modern and welcoming community facility.
"Along with the ANGUSalive libraries team, we hope that the new edition of the library will inspire the people of Montrose and I encourage everyone to join in the events during the launch fortnight."
On September 15 leading food writer BBC Good Food Guide regular Sue Lawrence, who will deliver a talk on wholesome cooking.
As part of the event, Angus food suppliers will bring samples of their produce.