A young Tayside swimmer is entering the new year as the holder of a clutch of national records and has her sights set on even greater success.
Arbroath's Sophie Smith currently holds Scottish best times at no fewer than four freestyle distances and has won the plaudits of coaches at local and national level for her performances in pools at home and as far afield as Ontario.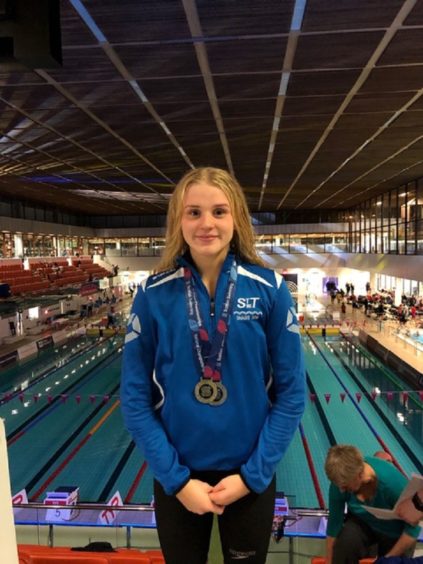 The Arbroath St Thomas Club talent has gone from strength to strength since winning selection to Scottish Swimming's senior gold squad alongside Olympians Duncan Scott, Hannah Miley and Ross Murdoch.
At the Scottish short course national championships in Edinburgh, towards the end of the year, Sophie broke the girl's 17-year-old Scottish records in the 50 and 100 metre freestyle and was Scottish national champion in the 50m event.
She won a bronze medal in the 100 FS and placed fourth and fifth in the 400 and 200 freestyle respectively.
Those performances, along with swims at the North District Open event in Aberdeen, mean Sophie now holds Scottish national age group records for the 50, 100, 200 and 400 freestyle.
In mid-December she then travelled to Ontario as part of a Scottish and British Swimming team, gaining valuable experience competing as part of a combined team across a range of events.
Scottish Swimming national coach Alan Lynn said: "Freestyle is tough for men and women across the world but especially tough for females at this level with (European champion and Commonwealth Games swimmer) Freya Anderson swimming alongside you.
"I think Sophie was in the lane directly next to Freya in many of the swims so there was lots of learning for her.
"She swam her races a little differently in Canada compared to short course for example and learned from negative splitting her 400 to controlling her pace, from taking the lead-off in a couple of relay swims as well and she soaked it all up.
"But she also certainly proved her worth by being on the podium and swimming personal best times."
Her Canadian medal haul included bronze medals in the 50 freestyle, butterfly and 400 freestyle and a silver in the 100 freestyle.
Her 400 freestyle was particularly impressive as she smashed her personal best by nearly five seconds.
Sophie begins the long course swimming season in earnest at the British Championships in April, with the Glasgow meet doubling up trials for the World Championships.