Glimpsed from the southernmost hills of the Angus Glens, it's easy to see why people are drawn to Kirriemuir.
A short drive from Glen Clova, the market town has charm, scenery and a fierce sense of pride in its most famous sons – author JM Barrie and AC/DC legend Bon Scott.
The discovery of Steven Donaldson's body on Thursday June 8 2018 at one of Kirriemuir's most beloved beauty spots – a favourite for dog-walkers and bird-watchers – has cast a long shadow across the tight-knit town, and wider Angus.
---
In Saturday's Courier: The full story of a murder that shocked a community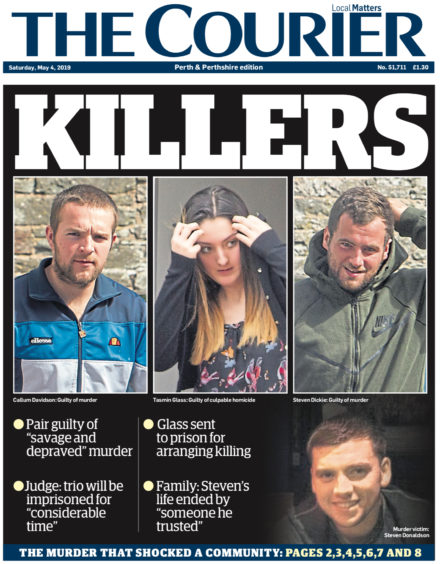 ---
However locals are determined that the murderous attack, which started at the Peter Pan Playpark on Kirrie Hill and ended in horror at the Loch of Kinnordy nature reserve, will not define the community for years to come.
"This is not us," said Reverend John Orr, the minister of the St Andrew's and Old Parish churches in Kirriemuir.
"In a community that is as well-adapted and very together as they are in Kirriemuir, having that (happen) on your doorstep was really quite a struggle to come to terms with.
Evil killers finally brought to justice for killing of Steven Donaldson
"There was that very real sense of shock in the community. There was a sense in which people were looking to find some explanation for it. They couldn't quite believe it because these were three local people that were well-known with a whole diversity of backgrounds."
As the shocking aftermath unfolded in June 2018, many locals turned to the churches of Kirriemuir to "try and make sense" of what had taken place.
Rev Orr added: "As we approach this particular point, having to deal with a lot of the issues again as they all come to the fore, there is a rawness again about it all. Feelings are strong, but the community has moved on from where it was.
"There is a real willingness to move from this point into a more positive place.
"There is a real resilience in the community. There is a sense in which no one wants this to define Kirriemuir and the people of Kirriemuir."
STEVEN DONALDSON MURDER: 'Steven was far too young to die' — Family pay tribute outside court after trio found guilty of his killing
Mr Donaldson has been commemorated near the Kinnordy Loch car park with a plaque and an oak tree, planted in his memory by family and friends. Floral tributes lie nearby along with written messages.
Ronnie Proctor – a "born and bred" Kirriemuir man, local councillor and Angus' provost – agrees that townsfolk will find a way to come to terms with what happened in their midst.
"The thought and memory will still be with a lot of people," he said.
"It's something that is going to be there for a long time to come. But you still see children going up to the Peter Pan Playpark, you still see birdwatchers going up to Kinnordy nature reserve.
"Such a horrible thing happening in such a lovely place like this is bad enough. One could imagine it goes part-and-parcel with living in a big city, but in a place like Kirriemuir, it completely astounded everybody.
"And the community, to say they were deeply shocked would be an understatement."
Detective Chief Inspector Andrew Patrick of Police Scotland's major investigations team led the probe into Mr Donaldson's murder.
He said: "Any murder we investigate is clearly harrowing and horrific for local communities and families, but the level of violence shown in this particular one is right up there with one of the most serious I've investigated.
"I really feel for the Donaldson family together with the communities in Kirriemuir who must have been rocked when this took place."
UPDATE (May 30, 2019)
At the High Court in Edinburgh on Thursday, May 30, Lord Pentland handed Steven Dickie and Callum Davidson, both 24, life sentences after they were found guilty by a jury of murdering Mr Donaldson. Tasmin Glass who, who was found guilty of culpable homicide, was given a 10-year sentence.