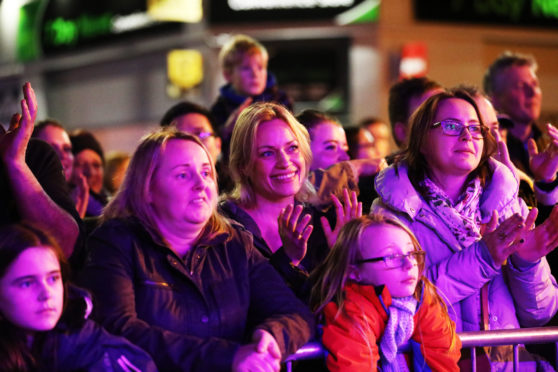 Community figures say children in the poorest areas of Dundee will benefit after a "long overdue" shake-up in Christmas funding.
The move will see a new Christmas fund set-up for all areas of Dundee to apply for cash with money previously allocated by default to each district.
Critics claim it will take money away from established events in the West End and Broughty Ferry.
However, Rev Bob Mallinson of Menzieshill Parish Church welcomed the change.
At Dundee City Council's recovery sub-committee, held virtually last night, he said many children miss out on the magic of Christmas due to "unfair" funding.
"In 2017 we carried out quite a substantial community audit in Menzieshill. Kids in our community had either never been to a Christmas lights switch-on or a display," he said.
"That broke my heart. Most of these kids had never experienced something that many of us take for granted."
Mr Mallinson, who began organising Christmas events after collecting cash from local businesses with a "begging bowl", said it was a conversation that "should have taken place years ago".
"Wealth needs to be redistributed across the city. Covid has shown us we need to empower local communities much more. It's always the places of poverty that suffer the most and lack the most.
"I really hope the council has the courage to stop doing what we have always done."
Every area eager to put on celebrations or put up decorations will now need to apply to a new £50,000 joint Hogmanay and Christmas fund.
Previously £73,000 was available, with Seabraes, Stobswell, Westport, and Whitfield receiving £8,000 each.
Broughty Ferry received £30,000 and Lochee was given £11,000.
The extra cash available will be diverted to the city centre for "enhanced" celebrations in a bid to match successful events seen elsewhere in Edinburgh and Glasgow.
Heather Henry of the Love Lochee group said for some children the local events "may be all they see at Christmas".
Lochee councillor Charlie Malone said: "I have met people in Lochee that have absolutely nothing. I spoke one year with a father who has five children and on
Christmas day he had nothing for them, not even food.
"All families deserve light because it has been a dark year."
Baillie Fraser Macpherson expressed disappointment at the decision by councillors to approve the changes.
He said: "I really feel we should not have made changes to long-established and great community Christmas support without fully consulting with communities right across Dundee as to what they would like to see in the future.
"What is really important now is that support is given by the council to ensure existing Christmas events are not lost and that we support local communities to deliver new ones."
Three amendments were tabled but failed to gather enough votes.
Dundee Labour West End councillor Richard McCready called for all wards in the city to be given Christmas decorations.
Scottish Conservative Broughty Ferry councillor Derek Scott called for further consultation with community groups.
The third, amendment, from Baillie Macpherson, asked councillors to maintain the status quo in 2020 to allow for a working group to discuss how to fund Christmas in future years.