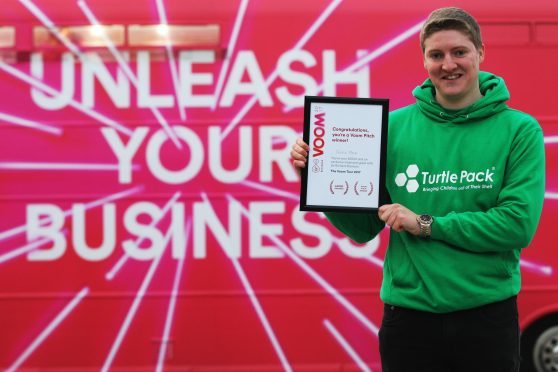 The winner of a Dragon's Den-style competition in Dundee has revealed he almost missed his chance of entrepreneurial glory.
Michael Harkins impressed judges in the Virgin Voom business contest with his swimming aid for children.
The 24-year-old, who has been a swimming instructor since the age of 15, designed the Turtle Pack to give children more freedom while learning to swim.
The buoyancy aid, which is modelled on a turtle's shell, keeps the wearer's arms free and their body in the correct horizontal position. Novice swimmers can adjust their  buoyancy by adding or removing sections of the "shell".
After walking away with the £5,000 top prize,  Michael revealed how he had almost missed the boat.
"I entered at the last minute," he grinned. "I found out about the competition last week when I was in Glasgow and was gutted thinking I'd missed it, but then I heard they were holding one in Dundee.
"I found out on Friday that I was in the final six."
He said he was looking forward to meeting Virgin boss Richard Branson as part of his prize.
Michael said: "Turtle Pack is a multi-award winning swimming aid which is designed for children aged three to six. It aims to remove anxiety, build confidence and develop important life skills.
"It feels amazing to win the competition – I've been working on Turtle Pack for the last couple of years and the chance to meet Richard Branson is life changing.
"To tell him about the Turtle Pack and pick his brains will be amazing."
The Dundee contest was the culmination of a nationwide tour which aimed to find Britain's brightest new business brains.
Sir Richard Branson, Virgin Group Founder, said: "The Voom Tour is seeking out brilliant entrepreneurs and ideas to help break down the barriers to business success.
"The aim is to help them put aside their fears and take the next steps on what could be the most significant journey of their business life.
"I'm looking forward to meeting the winner of the Dundee Voom Pitch."