Michael Alexander meets the stars of Dundee Christmas Ice Show which includes a host of Dundee born and bred British figure skating champions – and aspiring stars of the future.
It is the unofficial centre of excellence for figure skating in Britain with four of the six skaters competing for the title of British champion in Sheffield last weekend being members of Dundee Ice Skating Club.
Years of early morning training, dedication and expert coaching again paid off when Dundee figure skater Natasha McKay retained her senior ladies title – just edging out fellow Dundonian Karly Robertson into second place by less than two points.
Dundee narrowly missed out on a full podium with Danielle Harrison dropping back from third to fourth and Katie Powell finishing sixth.
It retains a remarkable record whereby a Dundee figure skater has won the Ladies British Senior title every year since 2010.
But since returning from Sheffield, the girls, who also perform internationally with the Great Britain performance team, have been putting the finishing touches to another slightly less pressured routine altogether.
That's because next Saturday they will star in this year's Dundee Christmas Ice Show at Dundee Ice Arena.
Pete and Tink On Ice promises to be a magical and action packed journey as Pete (played by Natasha) and Tink (played by Lucy Hay) travel through Neverland with Wendy (Danielle), Michael  (Louise Essery) and John (Karly) , meeting Captain Hook (Katie), the Lost Boys, the Indians, and of course the Crocodile!
The top level cast includes Irish champion Conor Stakelum who plays Pete's Shadow, and Anastasia Vaipan-Law (playing Tiger Lily) who completed a fantastic set of results for Dundee and Tayside in Sheffield by winning a silver medal in the Junior Ladies Championship.
As well as this pedigree of national and international stars, Dundee Ice Skating Club and Ice Coaching Elite will bring together new club members, and skaters from Dundee Ice Arena's Learn to Skate Program.
It will feature spectacular performances from all of the skaters, along with music, elaborate costumes, lights, glittering stars, and a whole lot of fun designed to be perfect for the whole family in the lead up to Christmas.
Dundee-based Team GB Olympic coach Simon Briggs, who departed for Japan this week to officiate at the ISU Grand Prix Final, coaches the skaters with his wife Debi. He says the excitement in the rink has been building as the opening show draws near.
"We have a long history of putting on exciting shows for the local community to enjoy in the lead up to Christmas, and this year's looks set to be our biggest and best yet!" he says.
"We look forward to welcoming the whole city and surrounding areas to the show. We hope that everyone will enjoy the performances, and it may inspire many new skaters to try out ice skating at the Ice Arena."
Former St John's High School pupil Natasha McKay, 22, who has played Peter Pan before, has just finished an early morning training session when The Courier catches up with her.
The winner of last year's  Dundee Sports Personality of the Year started skating at the rink when she was seven – not long after the facility opened in 2000 -and she has excelled ever since.
"I went to my friend's birthday party and I begged my mum for a whole year for a dress and a pair of ice skates, and ever since then I've been bitten by the bug!," she smiles, expressing sheer enthusiasm for the sport she loves.
"I started in beginner competitions and worked my way up. I've been skating for 15 years and you dream about being British champion."
https://www.youtube.com/watch?v=1k10yB051ps
Natasha has performed in every Dundee Christmas ice show since 2002 and laughs when she recalls her early appearances dressed as a stone and as a reindeer.
Now, with the British Ladies Senior title again secured, ice show rehearsals, held mainly at weekends, have started for her in earnest.
"This year I am Peter Pan," she says.  "I've played him before. You watch the film and you get into character. You just have to imitate them. Copy them.
"After training all year for the championships, it's nice to have a bit of fun to do the show."
Another born and bred Dundonian is Karly Robertson, 28, a former British champion and current ladies senior silver medallist, whose days and nights are spent criss-crossing the Kingsway, stacking shelves at Tesco on one side of it, and putting in 30 hours a week training at the Ice Arena on the other side.
"I got into skating when I was 12," she says. "I watched a movie when I was younger called Ice Castles and I just wanted to learn one move off of it.
"I begged my mum to come and try this move and she got me into lessons straight away because she was scared I would get hurt on the ice.
"I did group lessons to start off with then got private lessons. I wouldn't say it came easy. I had to work for it – obviously there was some talent there – but I would say I had to work hard."
Karly, who has ambitions to eventually move into coaching, is playing Wendy's little brother John.
He's just like a little kid," she laughs.  "I think he is quite silly and bit cheeky and that as well."
Like Natasha, she finds the Christmas show a lot more relaxed.  But there's still that determination to put on a top level performance.
She adds:  "When you are competing you have so much pressure – you want to win – but when you have a show there's not that drive to win.
"It's just to make sure the show is good for the audience who've paid to come and watch it. It's also great to give something back to the club because the club do so much for us.
"That's why we all participate in the show. It's a good get together at the end of the season. It's good to get everyone involved and to get everybody out just enjoying it. "
The youngest solo member of the cast is Louise Essery, 10, who plays teddy bear carrying Michael who she describes as "little and a bit silly".
The Invergowrie Primary pupil, who looks up to the older girls for inspiration, has been skating for almost seven years.
"My sister Megan skated before me so I really had no choice!" says the youngster who first appeared in Wizard of Oz in 2011.
"A lot of people from my school come to the show. You see them in the audience – it's nice to show off because obviously when you are at school you don't really talk about it. It's good for all your friends and family to come and see you."
Choreographer Andrew Smith, 33, a former figure skater originally from Glasgow who relocated to Dundee as a coach five years ago, says  that the concept and development of the Christmas show is overseen by  Debi  Briggs and starts in the summer.
Her fellow coaches – Simon Briggs, Georgia Briggs, Dave Mumby, Andrew Smith, Neal Bone, and Michelle McIntyre – all play their part to pull the show together, which he describes as "very much part of the culture" leading up to Christmas in Dundee.
"We love to see the skaters happy and enjoying themselves," says Andrew, who describes working with Simon and Debi as a "great privilege" and says the secret of success at Dundee is the real team ethos.
"We see how much effort the skaters put into it so for us that's very motivating to want to strive to do our best so we can put on a great show for the whole city.
"We've got great music, great choreography, great action, the top skaters in the country and all their young training mates who are coming through the ranks as well.
"It's a great show for the whole family. We say it every year but I'm going to stick my neck out and say this will be the best one yet!"
For ticket information go to www.dundeeiceskatingclub.com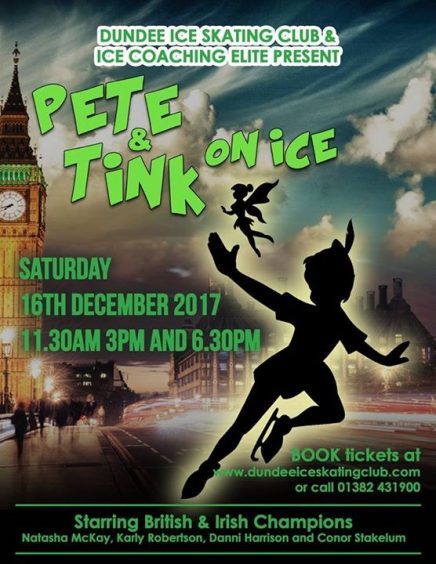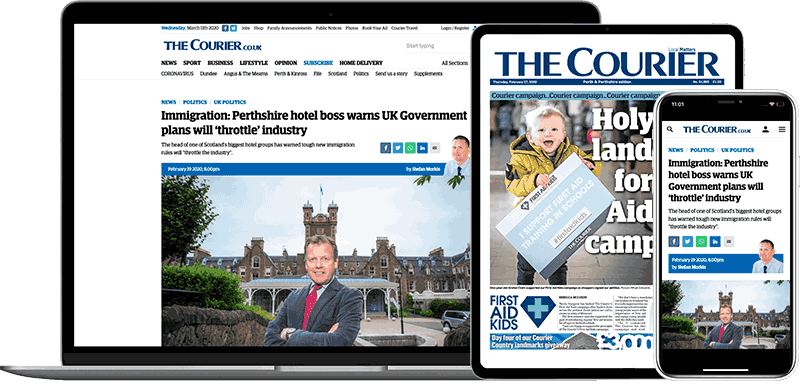 Help support quality local journalism … become a digital subscriber to The Courier
For as little as £5.99 a month you can access all of our content, including Premium articles.
Subscribe