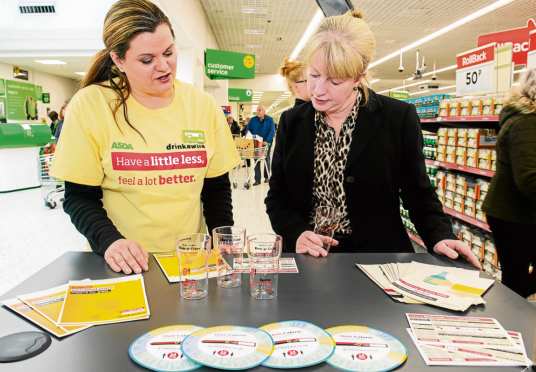 Scottish health secretary Shona Robison has hailed staff at a local supermarket for helping to educate the public on alcohol misuse.
Asda Dundee Milton and Drinkaware, one of the UK's leading alcohol education charities, provided free information and advice to shoppers who visited a stall at the store on Friday. Specific help for parents on how to speak to their children about alcohol was also provided.
Ms Robison said: "I was impressed with the information and advice being provided on alcohol to the local community.
"Scotland has a difficult relationship with alcohol, with 1,265 alcohol-related deaths last year, up 10% on 2015, while just today we see statistics showing a 2% annual increase in alcohol-related hospital stays.
"Behind every one of these statistics is a person, a family and a community."
The 2018 partnership builds on a successful 2017 pilot which saw Drinkaware engage with more than 2000 Asda customers.
This year saw a particular focus on women based on Food Standards Agency research that showed 68% of women said they are responsible for most or all of the household shopping.
Community champion Yvanne Mclaren said: "Dundee is an area that has a high level of deprivation and unfortunately, we do see a lot of alcoholism – hopefully this could give people the push they need."
Drinkaware chief executive Elaine Hindal said: "With one in five people setting themselves a New Year's resolution to lead a healthier lifestyle, Drinkaware's accessible and friendly advice will help people make positive choices that will impact on their health and well-being – not just in January but throughout 2018 and beyond."