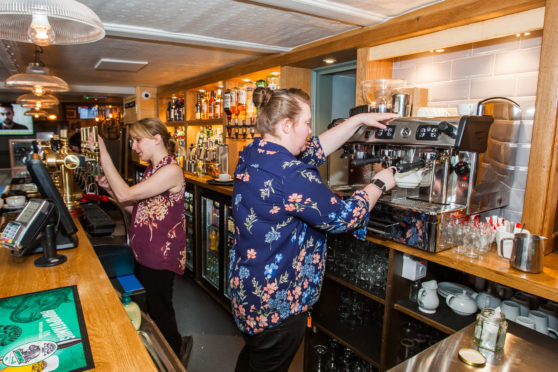 One of Broughty Ferry's most historic pubs has reopened its doors after undergoing a four-week refurbishment.
Both the bar and the bedrooms of the Fisherman's Tavern in Fort Street have been extensively redecorated.
Although the layout of the pub is generally the same, the snug bar to the rear has been removed to create more room and space for a new women's toilet.
All of its 14 bedrooms have also been redecorated and new toilets have been fitted in the bar.
The Fish first opened in 1827 and is renowned for its real ales.
It is currently owned by Belhaven Greene King.
The company bought the pub in 2007 and pledged at the time to retain its old-time aesthetic.
There was controversy over plans to re-model the bar when they were first announced.
Many patrons feared the changes would result in the loss of the pub's unique historical character.
However, councillors on Dundee City Council's development management committee approved the plans by 22 votes to six.
Some features of the pub have been retained including a mirror that hung behind the snug bar.
It now hangs on one of the walls in the seating area at the back of the pub.
A spokesperson for the Fisherman's Tavern said: "We were pleased to get planning permission last year to refurbish the pub as it meant we were able to invest a six-figure sum in making necessary and responsible improvements to the building.
"These included upgrading the ladies' toilets, redecorating and renovating the bar area and spending a significant sum upgrading all the bedrooms.
"We are aware the pub holds a significant place in the community's history and is quite rightly a listed building, which means all the work has been carried out with the utmost care and attention.
"It's great to be opening the doors again today after a brief closure and we're looking forward to welcoming customers back to the pub to see the changes for themselves, all of which aim to respect the building's heritage but also allow it to hopefully remain a vital part of the Broughty Ferry community for many years to come."
One of the first customers through the doors of the revamped pub was factory worker Douglas Sandilands, 31.
He said he approved of the pub's new look.
"It looks good. It looks thoroughly modern," he said.
"I think they've managed to keep the feel of a traditional pub.
"I wasn't really concerned about the changes – I know some were but I knew they would get it right."