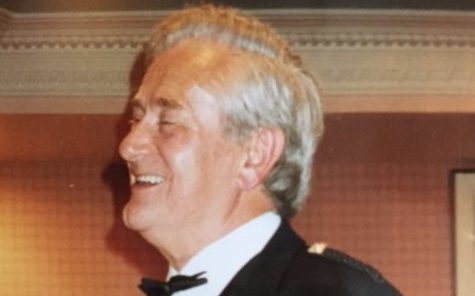 A wartime merchant navy veteran and former owner of one of Dundee's last jute mills has died aged 91.
Douglas Morton Brewer, who was managing director and then owner of Tay Spinners, died peacefully at his Broughty Ferry home on April 20.
Mr Brewer, who was also a keen sailor and golfer, was born on May 20, 1926, in Nether Padley in Derbyshire. His father was a solicitor in nearby Sheffield.
He lived there until the early 1930s, when his parents separated, before moving to his mother's native Dollar in Clackmannanshire with his elder brother Kenneth.
He was educated at Dollar Academy and left school aged 17 to follow his brother into the Merchant Navy.
Mr Brewer served in the Atlantic and Mediterranean until the end of the Second World War, supporting campaigns in Italy and North Africa, sparking a life-long passion for the sea and sailing.
Tragically he lost his brother as the war was nearing its end when the fuel ship he was on was bombed in the Thames on its return home.
After the war he was preparing to go to Aberdeen University to study forestry, when an opportunity came up to work for Astral, a refrigerator manufacturer that was setting up in Dundee. It went on to become Morphy Richards, where he worked his way up to senior positions, leading the firm's international growth and travelling the world to open up new markets.
In 1967 he left to join Nairn, the linoleum and floorcovering business in Kirkcaldy which was then a prominent Scottish Stock Exchange listed company, going on to become managing director by the time it was acquired by Unilever in 1975.
He served on a number of industry bodies including the Scottish Committee of the CBI.
Meanwhile, Mr Brewer had been rekindling his interest in sailing, joining the Royal Tay Yacht Club and successfully racing his yacht, Viala, on the Tay and later cruising the West Coast in the company of his family and friends.
When Unilever made its offer to acquire Nairn's he was stormbound on a yacht in a remote bay in Minorca, and battled his way back to a crucial board meeting in London, arriving salt encrusted in his sailing clothes.
After spending the majority of his career at Nairn's, Mr Brewer retired at the age of 56 in 1982, resolving to pursue his wider interests rather than work full time again.
However, after only a year, the opportunity to become managing director of Tay Spinners, the last jute spinning business left in Dundee, proved too strong a pull.
He went on to buy the mill with his business partner and co-owned the business for three years, making annual jute buying trips to Bangladesh before he retired again at 67 to sail, tend his garden and re-kindle his interest in golf.
He was an active member of Panmure Golf Club until his mid-80s.
Mr Brewer is survived by his wife Joyce, neé Morgan, a Broughty Ferry girl who he met in 1947 and married in 1950, his son Paul and daughter-in-law Gillian, as well as granddaughters Katie, Sarah and Helena.
Paying tribute to his father, Paul said: "He embraced all his interests wholeheartedly and enthusiastically and was known by everyone as a true gentleman.
"He remained mentally very sharp and kept his interest in his hobbies, his family and the world around him going right up to the last."