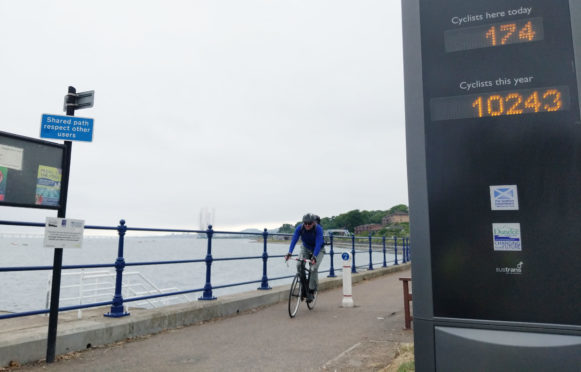 Plans to improve cycling routes in Dundee will be put in place after data from a new bike counter showed that more than 10,000 cycle journeys were made through Broughty Ferry last month.
The counter was installed on May 29 at the cycle lane near the beach front to record how many people use the path and to predict demand for similar routes elsewhere.
In just 30 days, a total of 10,062 cyclists were recorded passing the counter.
Councillor Kevin Cordell, cycling spokesman for the council, said it was "vital" for the city to improve its connectivity.
He added: "I think this is an incredible number and shows how popular this route is with recreational cyclists and commuters alike.
"What we were hoping was being able to demonstrate the demand would lead to better cycling facilities in the city.
"We are definitely looking at the future and considering the need to get more dedicated cycle paths.
"The Green Circular is very popular but when you get off it you end up having to get across the Kingway, so you have people needing to get off their bikes and cross busy roads.
"It is vital to get better connectivity across the whole city so that more people can take advantage of warm summers like this to get out on their bikes."
Later this summer, the cycle route running along the docks beside City Quay will be spruced up by widening the path and tidying up the area.
Matt McDonald, Sustrans Scotland head of delivery of infrastructure, said: "This is great news, and illustrates the interest in cycling in Dundee.
"The cycle counters add to the collective knowledge about levels of cycling across Scotland, where we have 116 million trips on the National Cycle Network alone.
"We would welcome further discussions with Dundee City Council to make it an even better place for people to walk through, cycle in and enjoy."