A Dundee couple's beloved pet dog has been found six days after running away and being struck by a car on the city's busiest road.
Bear the Jack Russell cross braved some of the coldest nights of the winter before finally being traced by owners Zoe Forbes and Graham Lawson in a garden on Barnes Avenue on Thursday morning at about 12.45am.
The one-and-a-half-year-old pooch was taken out by his dog walker on the afternoon of Friday, January 25 when something spooked him in a park near Dundee and Angus College and he ran off.
He is then said to have been hit by a car at the Forfar Road traffic lights, at their junction with the Kingsway, before running up the route in the direction of Stobsmuir Pond.
In the days that followed, sightings were made across Dundee from Caird Park to Kingspark and Morgan Academy.
Incredibly after six days of looking for Bear – which included a massive social media appeal driven by Missing Pets, Dundee and Angus, and the physical search efforts of an estimated 100 people – he was found in the early hours of Thursday.
Zoe's sister Alix Forbes, and Nick Woo, who were searching with the couple, found him in a garden near to where his owners had placed the dog's crate, complete with clothes, food and water.
Zoe – who owns the Sweetpea Cafe in Broughty Ferry – said Bear is in good health, has been checked by a vet and is delighted to be home.
The 23-year-old said: "We got a text from someone saying they'd seen what they thought was Bear. We just went out quietly looking for him.
"We happened to be in the right place at the right time. He was barking at Nick but Nick lay down, he was a bit unsure at first then slowly came out and put his paws up on Alix.
"It didn't feel real. It was just amazing. We couldn't quite hold in our emotions, there was lots of tears.
This dog is missing in Dundee after being struck by car on Kingsway…can you help find him?
"We were out every day. When we found him it was -4C and he was skin and bone, but he's perfectly fine apart from a couple of wee grazes.
"We are just going to keep him nice and cosy for the next wee while. He's curled up with us, he's happy. It was a hard week but we didn't give up."
She also expressed her thanks to the people of Dundee after total strangers came forward to help in the search effort.
Zoe said: "It was incredible. We had amazing support from people we don't even know and so many shares online. Missing Pets, Dundee and Angus did a big thing. They helped so much.
"I'd just like to say a huge thank you to everyone that's been involved and helped. People have been so helpful and so kind."
On Thursday morning the Missing Pets, Dundee and Angus page posted: "Bear has been to the vet and apart from being a little thin he is perfectly fine. He is now home, cosy, loved up and already fast asleep."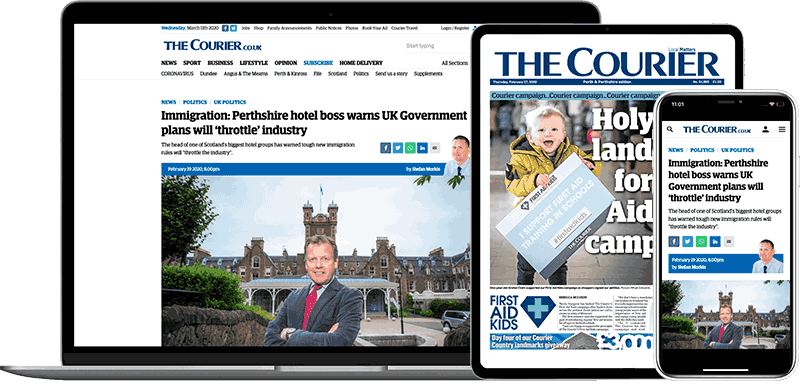 Help support quality local journalism … become a digital subscriber to The Courier
For as little as £5.99 a month you can access all of our content, including Premium articles.
Subscribe