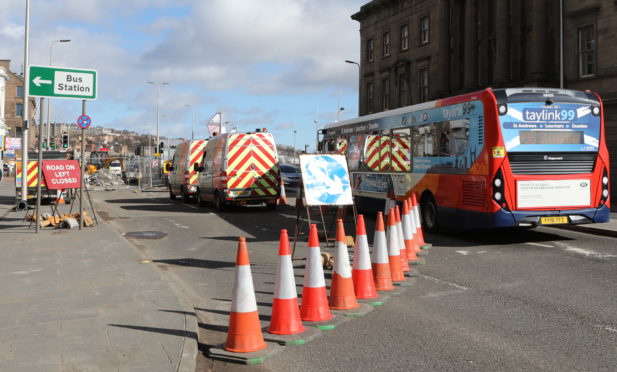 Emergency gas repairs that have caused traffic chaos in Dundee could be completed by Thursday.
SGN began the repairs on Dock Street, which were originally scheduled to last for a whole week, on Thursday.
The inside lane was closed which has led to major traffic delays during rush-hour.
Traffic heading into Dundee queued back across the Tay Road Bridge while motorists heading east along Riverside Drive towards to the bridge were also caught up in lengthy tailbacks.
Emergency roadworks force complete closure of key road connecting Dundee and Tay Road Bridge
The Aberdeen off-ramp from the Tay Road Bridge was also closed over the weekend in a bid to reduce pressure on the area of works.
Drivers are reporting more heavy traffic today, with queues said to be building ahead of the evening rush hour.
It is now hoped the repairs to the gas main will be completed and the road fully re-opened to traffic by Thursday morning, one day ahead of schedule.
Dundee roadworks lead to 'significant' traffic on Tay Road Bridge
An SGN spokesperson said: "Our emergency repairs in Dock Street are continuing and progressing well.
"We hope to have completed this work and have the road surface reinstated and fully reopened before Thursday morning's rush hour."